10 days until the big day and I'm still not feeling festive. Roll on next Monday as it's the husbands birthday which always marks the beginning of Christmas for me as he usually starts his Christmas Holiday around then taking some of the pressure off me.
We have at least got our Christmas tree up, which we did on Monday night after returning home from our weekend at Butlin's. I knew we had to do it then when we were all at home (except Hanna who had her Brownie & Guide party) or it would be this weekend before we had chance.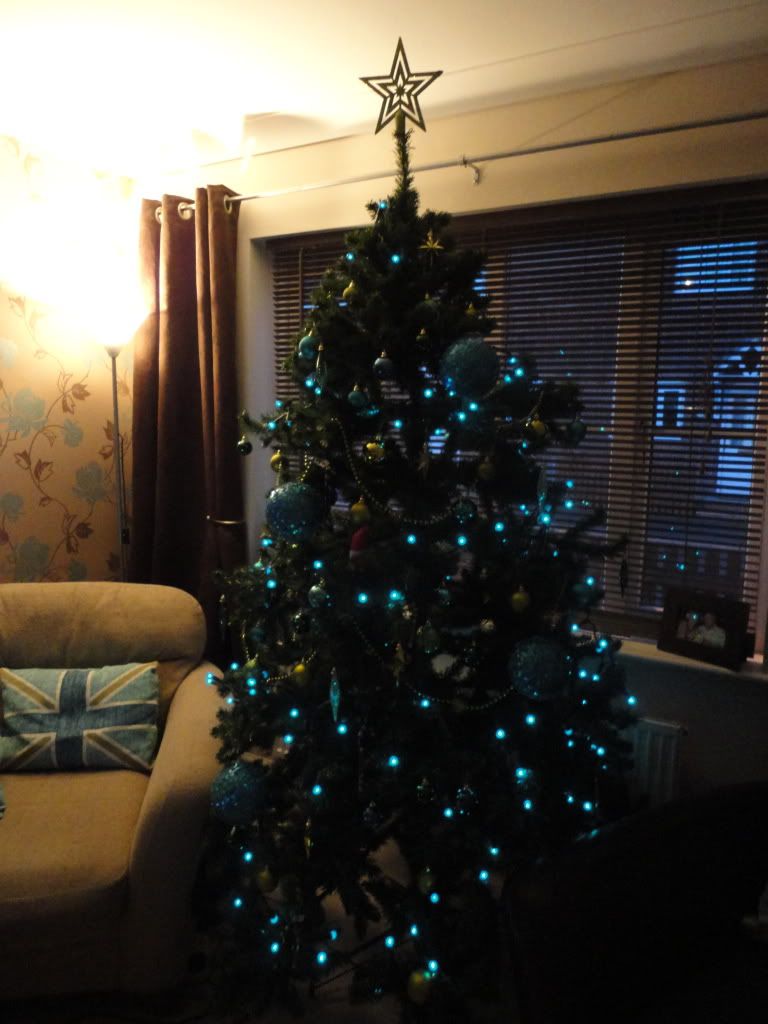 I have only managed to do the basics - one set of lights, baubles and some beads. Hanna has since hung a set of Pittsburgh Steelers candy canes that our US friends sent to us last year and positioned her tweeting Robin on one of the branches.
Hanna's tweeting Robin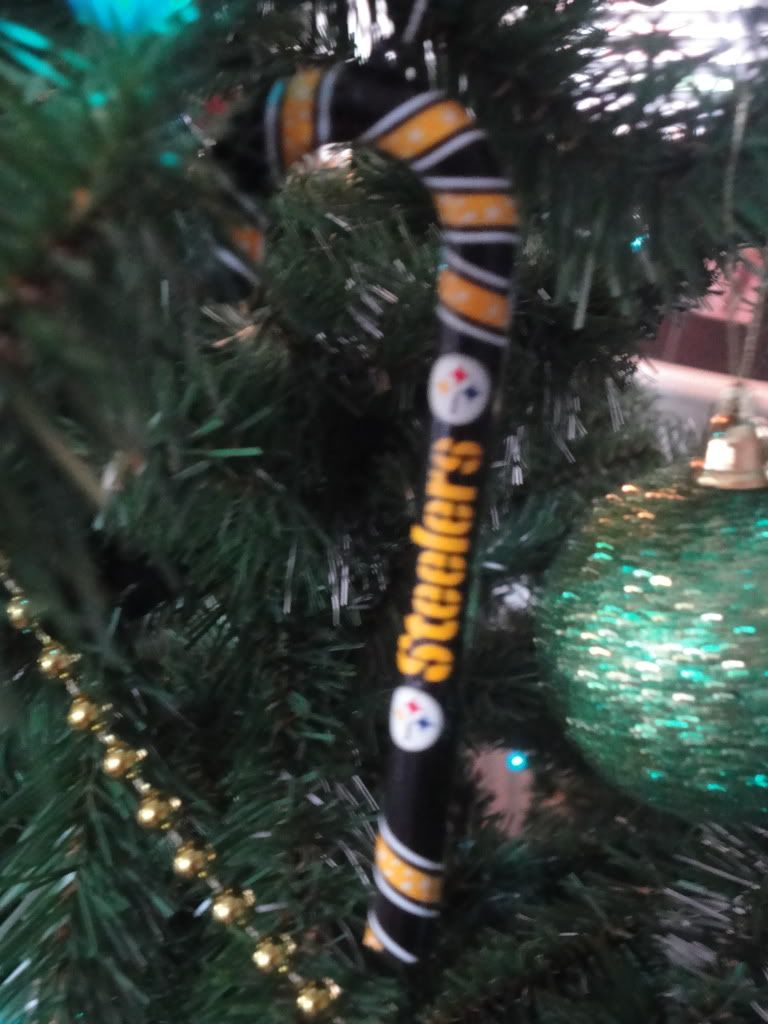 Pittsburgh Steelers Candy Canes
A couple of years ago I decided to move away from my chocolate coloured decorations and get some Teal ones to match the decor, that year I could find hardly any teal decorations in the shops even though I hunted high and low. I saw some that I wanted on the This Morning tree - huge teal ones but couldn't find any anywhere.
The following October I spotted some huge teal sequined baubles in Next and bought them straight away, they were just what I'd been looking for. I've also added some teal lights this year too.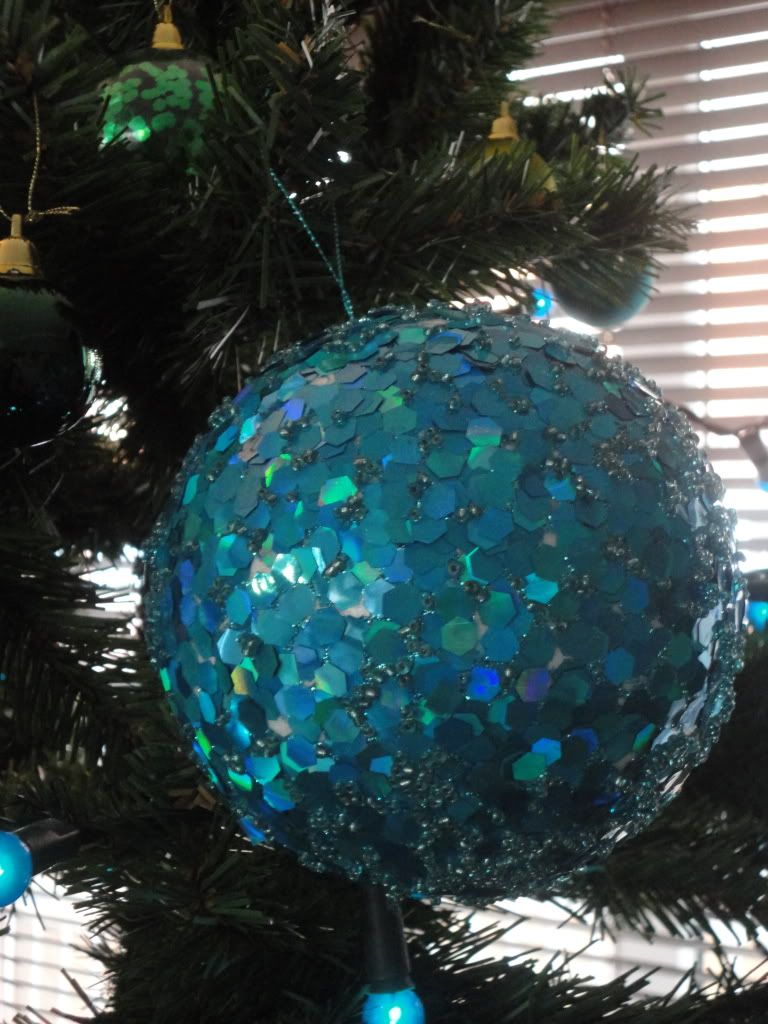 Sequin Baubles from Next

And a few lights around the fireplace - they were Teal ones but some of them stopped working so I returned them and used the lights from the tree last year.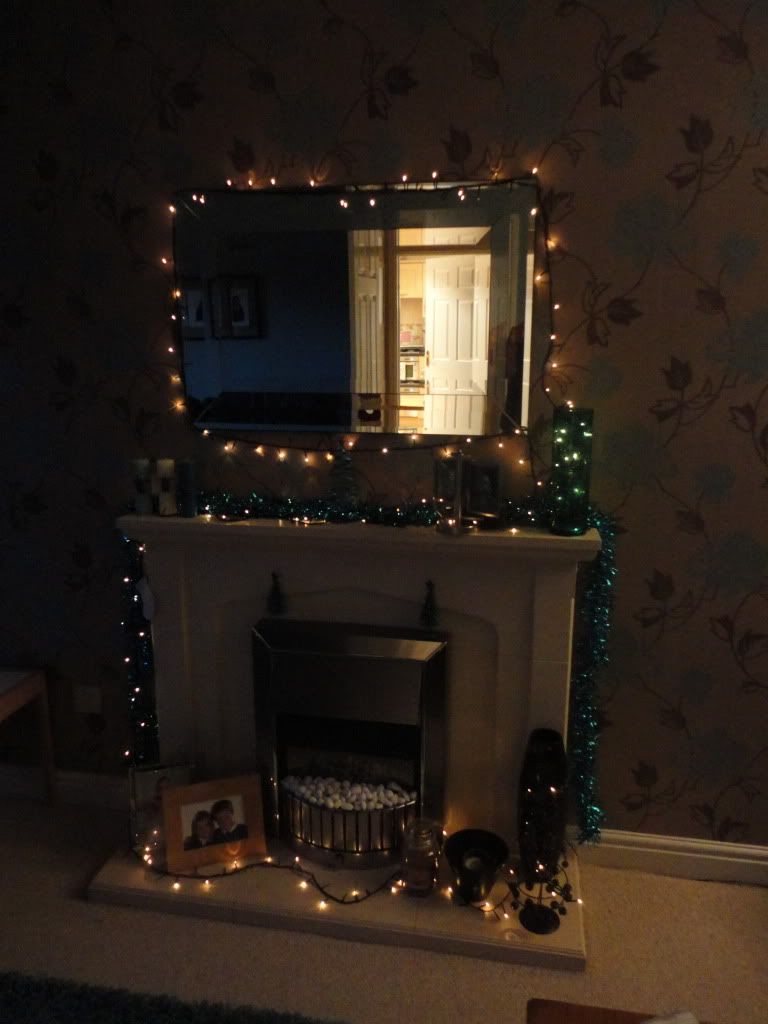 The tree isn't real but it does have a story to tell about it. Since our first Christmas together in 1999 myself & my husband have had real trees, albeit small potted growing ones except for the 2 Christmas's spent in the US when we had large cut ones. For our first Christmas in this house we bought a small potted one which we used again the following 2 Christmas's until it started to smell and had creatures living in it and decided to get a fake one. I was only looking for a 4ft tree but when I spotted a lovely 6ft one for only £9.99 I had to have it, especially when I went over to the boxes of trees & the same tree was priced at £99.99. I dragged the tree to the checkout, the assistant scanned it and the price came up as £99.99, 'what!' I exclaimed 'it's only £9.99 on the display'. To cut a longish story short they agreed that the tree was mistakenly marked up at the incorrect price and they would need to sell it to me for the lower price. At the time I drove a Micra but I was determined to squeeze the huge box in and only just managed to close the back doors.
The potted tree was planted into the ground the next Spring and over the last couple of years has really sprouted and is now more than 8ft tall. I would really like to get some lights on it but we need to get some power outside first - maybe next year.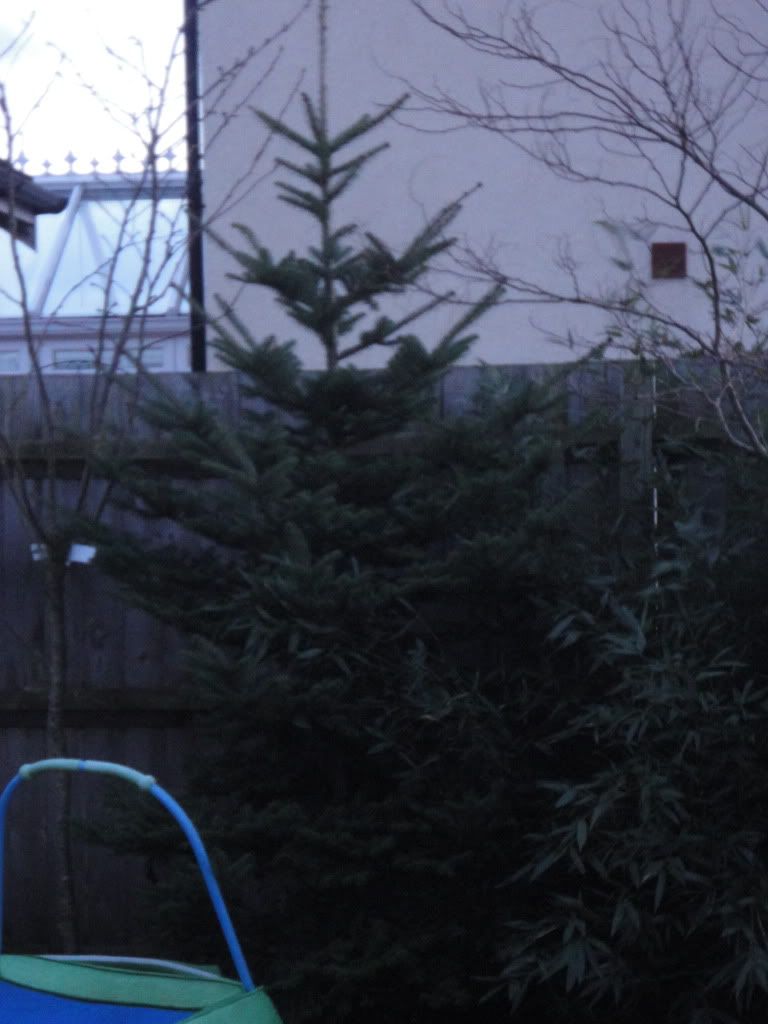 Our rapidly growing tree