Garden Games contacted us recently to ask if we wanted to review a giant Connect 4 so of course I said yes as we all love Connect 4. We have the good old fashioned game - which used to be mine when I was a child, a very long time ago, as well as an app on the iPad which Sam and Hanna enjoy playing.
Unfortunately there were no Connect 4's left so we were instead offered some replacement pads for our trampoline. We have had our trampoline for a number of years now and I'm not sure how many more we will get out of it - we've repaired the safety enclosure a few times and the pads around the edge are very worn so these came at the right time - if it wasn't for the horrid weather that we're having at the moment along with the dark evenings. We therefore haven't got around to fitting them yet and if we don't get them on this weekend I will be inclined to wait until the spring once all the frost has passed. Sam uses the trampoline in all weathers though, rain or snow - he takes his football on it and practices his skills so it is a very well used trampoline.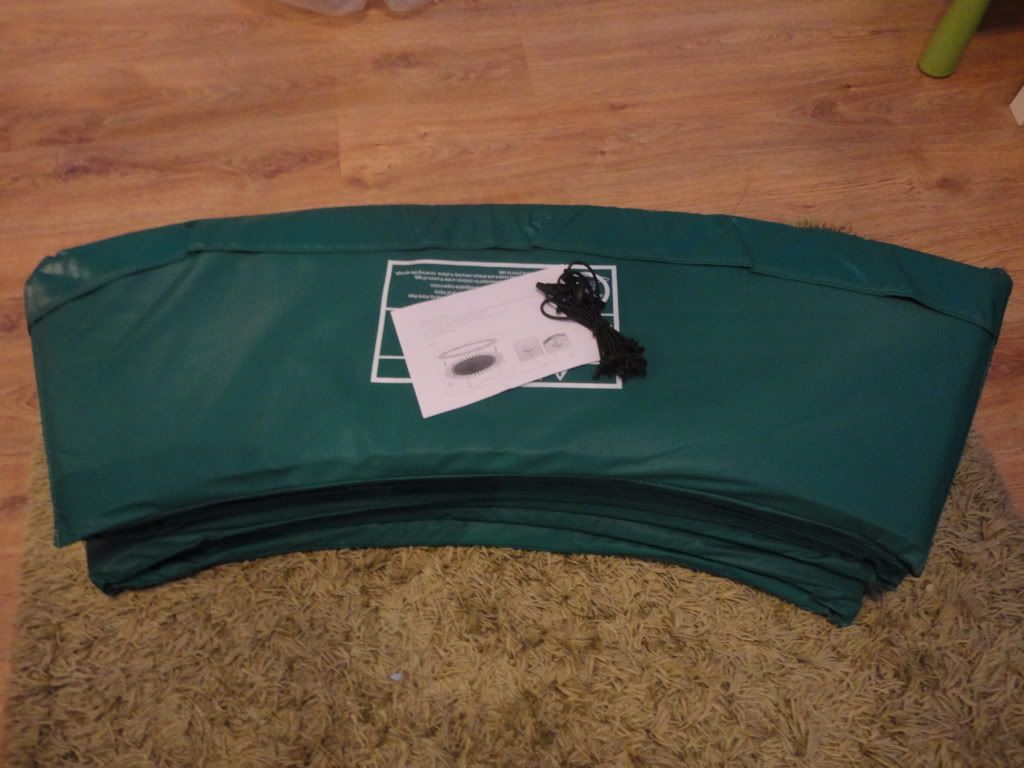 The pads arrived very quickly and were wrapped in strong clear plastic to avoid any damage during transit. The pads themselves are covered in a strong PVC with strong, well stitched edges. I was disappointed to notice that they didn't seem to be of the thickness stated in the description though and when I measured them they appear to be over 5mm thinner than the 30mm stated in the description.
Either we have a duff set or the description and price needs to be changed to reflect this difference as Garden Games also sell another set of trampoline pads that are described as 26mm thick and are over £20 cheaper. Apart from that they are still plenty thick enough and of good quality. There is a set of elastic straps to attach the pads to the trampoline as well as some instructions which makes it all look pretty simple. They also come with a 2 year warranty to give peace of mind.
We received the 10ft pads but they are also available for 8ft, 12ft, 13ft and 14ft trampolines, as well as the cheaper pads and covers and enclosures here.
We were sent these pads for the purpose of this review.