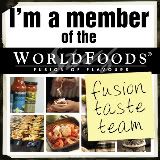 After being a bit behind with the Worldfoods tasks I think I have just about caught up now. This week (or was it last week?) our task was to cook Nasi Goreng - translated as Fried Rice. This looked to be a nice simple dish that can be cooked in a variety of ways with fish, prawns, beef or even sausages. As the husband was away and I had been rushing around taking the kids to the doctors, swimming, then cooking tea and doing the bedtime routine I needed something fast and easy to make.
I chose to add pineapple to my Nasi Goreng making it Nasi Goreng Hawaii / nanas and then envelope it in a thin omelette - Nasi Goreng amplop, so I suppose this is a Nasi Goreng nanas amplop - or amplop nanas?
It was cooked in no time & hit the spot completely. I served it with a really non Indonesian salad with salad cream on!
Here follows the Worldfoods recipe and variations :
Serves 2-4
Ingredients
4 tablespoons WORLDFOODS INDONESIAN NASI GORENG PASTE
2 eggs
3 tablespoons cooking oil
200g (7.1oz) boneless chicken breast, cut into strips
100g (3.5oz) raw prawns, shelled and deveined
300g (10.7oz) cooked rice, cooked as per pack instructions (preferably pre-cooked and left to cool; ideally the day before)
Cooking Instructions
1. Make an omelette with 2 eggs. Cool and shred it thinly.
2. Heat 3 tablespoons oil in a wok or frying pan and add 4 tablespoons of WORLDFOODS INDONESIAN NASI GORENG PASTE and cook for 1 minute until aromatic.
3. Add in chicken and prawns and fry for approximately 5 minutes.
4. Stir in rice and cook for a further 3-5 minutes or until heated through.
5. Garnish with shredded omelette
Here are some variations on the Nasi Goreng recipe that you might like to try:
• Nasi goreng ayam: the most common nasi goreng with chicken, spices and sweet soy sauce, the color is golden brown
• Nasi goreng istimewa: special nasi goreng, usually refer to nasi goreng ayam with addition of fried eggs topping
• Nasi goreng sapi: nasi goreng with beef
• Nasi goreng sea food: nasi goreng with seafood such as cuttlefish, prawns, shellfish and fish
• Nasi goreng amplop: nasi goreng "enveloped" in thin omelette
• Nasi goreng santri: means priest's nasi goreng, refer to a meatless vegetarian nasi goreng
• Nasi goreng sosis: nasi goreng with sausages
• Nasi goreng Hawaii or also called nasi goreng nanas: nasi goreng with pineapple
• Addition of onions, ginger or extra garlic