The lovely Jean from Toyjeanius seems to know me so well. The last item that she sent for review had me a little excited - it was a lovely Djeco Origami kit, with some really pretty sheets of paper in.
This time the package had me intrigued before I opened it - 'is it a large tube of smarties?' I tweeted to Jean, as the cylindrical package sounded like an oversized pack of smarties when I shook it, I thought it had to be a puzzle of some kind instead.
When I eventually opened the [extremely well packaged] parcel my brain started working overtime, for inside I found this :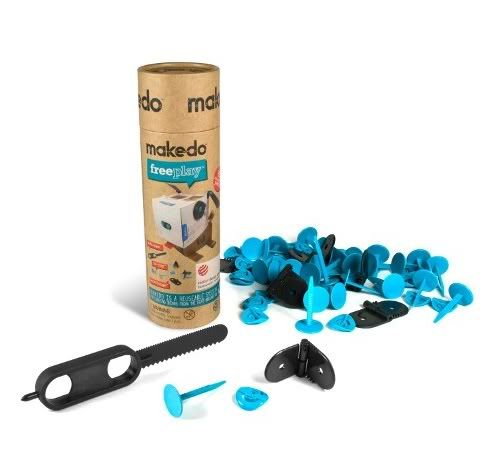 It's a set of reusable plastic parts that can be used to make useful toys for constructive play out of household packaging. Jean knows that with my business I get a lot of empty boxes which means a weekly trip to the recycling centre for my husband.
Whilst the kids were all at school I rummaged around in the garage, had a play and built this :
and when the kids came home I wasn't quite ready to let them have a play yet and built this :
The makedo set that I received is a freeplay set, meaning that it comes with all the parts you need to let you imagination run away with you. Included in all the makedo sets is a safe-saw for cutting cardboard on one end and the other end is used for punching holes ready for the pegs (29 included included in this set) to go through, which are locked in place by clips. There are also 6 lockable hinges that can be used to join pieces together at angles - the angle can be adjusted on the hinge and locked in place.
All the parts are reusable and easy to take apart and can be kept in the handy cardboard storage tube. There is also a brief instruction leaflet inside explaining how to use the parts and giving some ideas for projects.
I finally let Hanna have a play with the set and she made a lion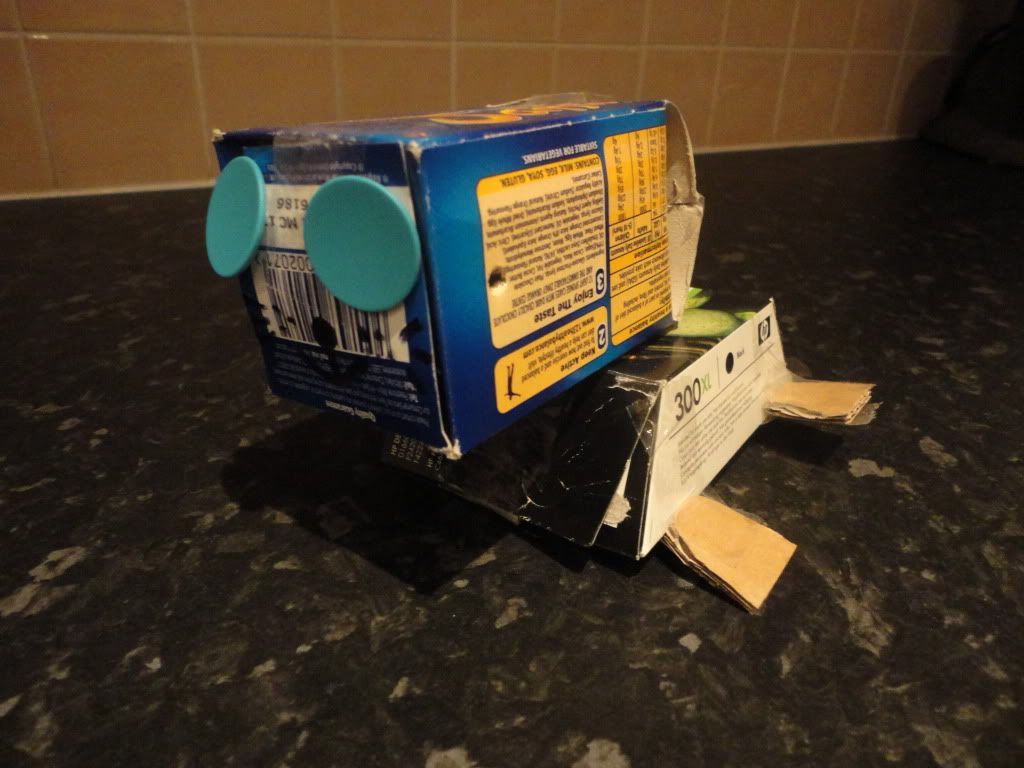 We're now trying to build up our collection of shoe boxes to enable us to build a better quality dolls house.
In the range of Makedo kits there is a dolls house kit that includes stickers as well as all the re-usable parts, a kit to make flowers, one for a robot and another for a car. The sets can all be found on the Toyjeanius website, along with other creative toys, and are priced from £6.95. The freeplay set that we tried out is £9.95.
There is a great gallery of makedo creations on their website - from small decorative items to large buildings. The possibilities are endless. Take a look at this short video from the makedo website giving some great ideas for creations.
This would make a great stocking filler for the kids (or big kids!) this Christmas.
If you're looking for gift ideas for the kids this year Toyjeanius has a great range of wooden toys, play food, games and puzzles......as well as lots more.