We're not big into gadgets in this house but when I was asked if I wanted to review the new iHelicopter that is powered by your mobile phone I was intrigued. I've only had my iphone a few weeks and don't have many apps but this was one app that I was keen to download.
The iHelicopter is a small (but robust) helicopter that (after an initial 1 hour charge) is ready to go. I was really pleased that there are no batteries in either the transmitter or the helicopter, you just charge each with the USB cable included.
I'm not very technical so I won't quote any of the technical spec but you can read it here. The iHelicopter came ready assembled in the box along with the transmitter, USB cable and instructions. It was very easy to get going, you just need to download the app from the iTunes app store or Android Market, depending on your phone, and away you go.
I'm not too co-ordinated steering this kind of thing (you should see me on Mario Kart!) so my first attempt took the helicopter soaring up to the conservatory roof and come crashing down onto the floor. I expected to see the helicopter in pieces on the floor but instead it was intact, I was amazed at how strong this little thing was. When the kids came home from school I was keen to show Sam my new toy and we have not laughed so much in ages as I attempted to control this overgrown wasp that kept dive-bombing us!
Here is a very short video showing the LED lights and a quick flight - but you get the idea.
There is an option to control it by the joypad (on the right) or by motion, tilting back and forth. I found it easier to control by the joypad as I tended to tilt the phone to see it and this would send the helicopter shooting backwards.
It's definitely one for a large minimalist house or for a wide open outdoor space, unless you're much better at controlling it than me!
The box does come with a few spare parts and more are available to purchase if required.
The iHelicopter is available exclusively from Paramount Zone at an introductory price of £29.99. I think it is well worth this price and would be a perfect Christmas present for all gadget lovers out there.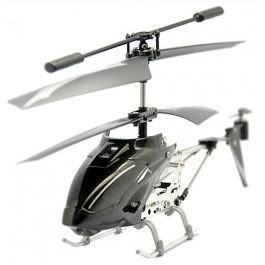 I was sent the iHelicopter to try out for the purpose of this review