Meet Poppy, the new addition to our family.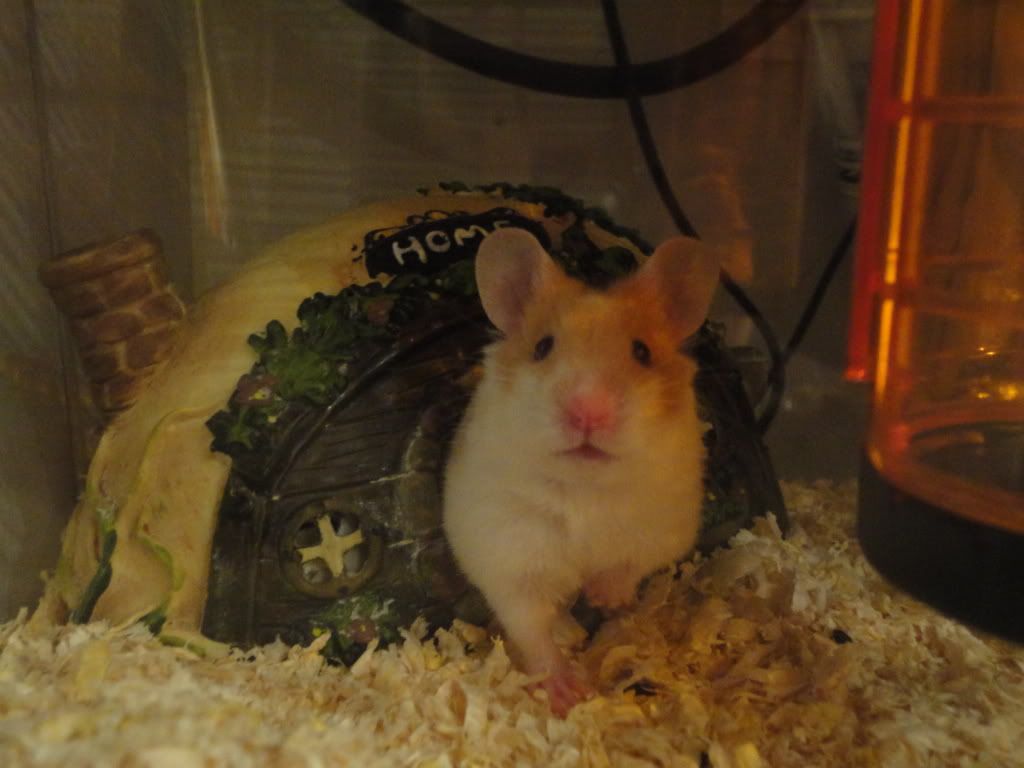 Hanna has been asking for a Hamster (or a rabbit) for a while now. A few years ago Sam and Hanna both received a hamster each for Easter, along with some fancy pants cages, with lots of tubes and slides.
Hanna named hers Pim The PomPom, shortened to PomPom soon after. Sam named his Hammy. PomPom never settled, he didn't like being handled and when Hanna tried she got a nip so he was returned to the pet shop (after an attempted break for freedom & a midnight rescue). Then came Nibbles who was a lovely hamster, just like Hammy, so when she developed a tumour in her eye after only a couple of weeks and had to be put to sleep (after being syringe fed porridge morning and night and a hefty vets bill) Hanna was very sad. Daddy bought a smile back to her face with Joe who sadly didn't last too long either. After another not so nice hamster (who's name we can't recall) was returned to the pet shop Sam agreed to let Hanna have Hammy in exchange for a new football. The deal was done and Hammy moved into Hanna's bedroom. Hammy was a lovely hamster but he did have a bit of a smell about him so when he joined Nibbles and Joe in Hamster Heaven (under the Christmas tree in the back garden) we decided to have a break from hamsters and allow our house to regain it's natural scent.
What put us off having another hamster, apart from the smell, is the mess. With the cages that we had, apart from being difficult to clean due to all the tubes & slides, they allowed all the bedding to be kicked out of the sides and all over the floor. I would've liked to keep the hamster downstairs but then there is the issue of where to put the cage that wouldn't be in the way.
When we were given the chance to review the new Qute Hamster House from Omlet it couldn't have come at a better time as Hanna had been asking about having a pet again as many of her friends have one and she was feeling left out.
What attracted me to Qute is the design. As we'd decided that we couldn't put a hamster in Hanna's bedroom again because of the smell - not to mention the fact that we now have a two year old who might be tempted to let the hamster out whilst he was supposedly playing his bedroom - the 'cupboard' style of the house would fit perfectly in our kitchen. Not only would it provide a place for our new pet to live but it would also act as TV stand.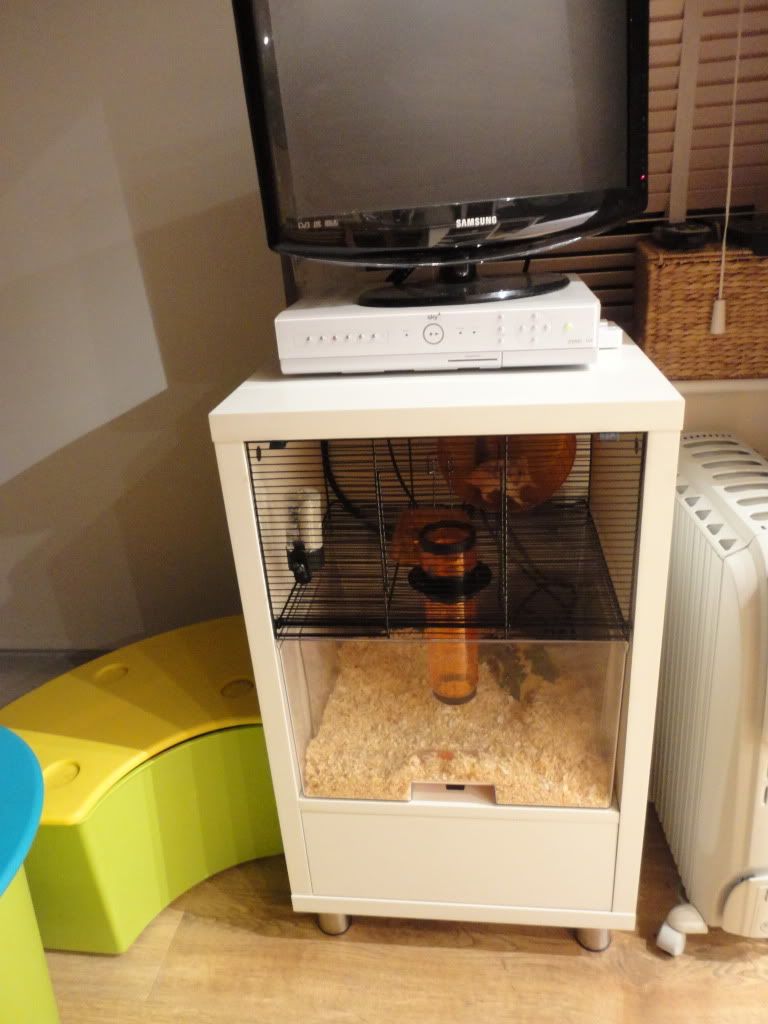 The hamster house comes flat-packed with instructions how to put together. (I was pleased that ours arrived ready assembled though). It also comes equipped with a water bottle, food dish, wheel and integrated tube to give the hamster access to both floors. The front of the cage comes down to give easy access to the whole area for a thorough deep clean when necessary. The cage can be given a regular clean in just one minute and is so easy that Hanna was happy to do it alone.
Almost every day we have removed the clear tray which gives us easy access to Poppy to take her out for cuddles.
We love the Qute hamster house and have absolutely nothing negative to say about it - we couldn't believe how easy it was to clean, and because the bedding tray is so deep we don't end up with any wood shavings on the floor, unlike the last cage we owned.
The handy storage cupboard underneath houses all the bedding, food and cleaning spray within easy reach. If you want a smaller house you can also purchase a Qute without the storage cupboard underneath.
The house can be used for gerbils and syrian hamsters, if you want to use it for dwarf hamsters you will need one of the cages with a solid base which will be available in the future.
Omlet, the manufacturer behind Qute, have a great range of houses for chickens, rabbits, guinea pigs and even bees. They are a modern range of houses that are not only stylish but extremely easy to clean too. The twin walled structures are also designed to keep your pet warm in the winter and cool in the summer.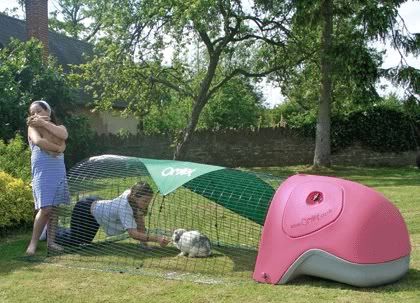 photo courtesy of omlet.co.uk
And just for a bit of fun as Hanna has the same dress as the girl in the photo above we decided to recreate the shot - except Poppy was asleep so she's not actually in Hanna's hands!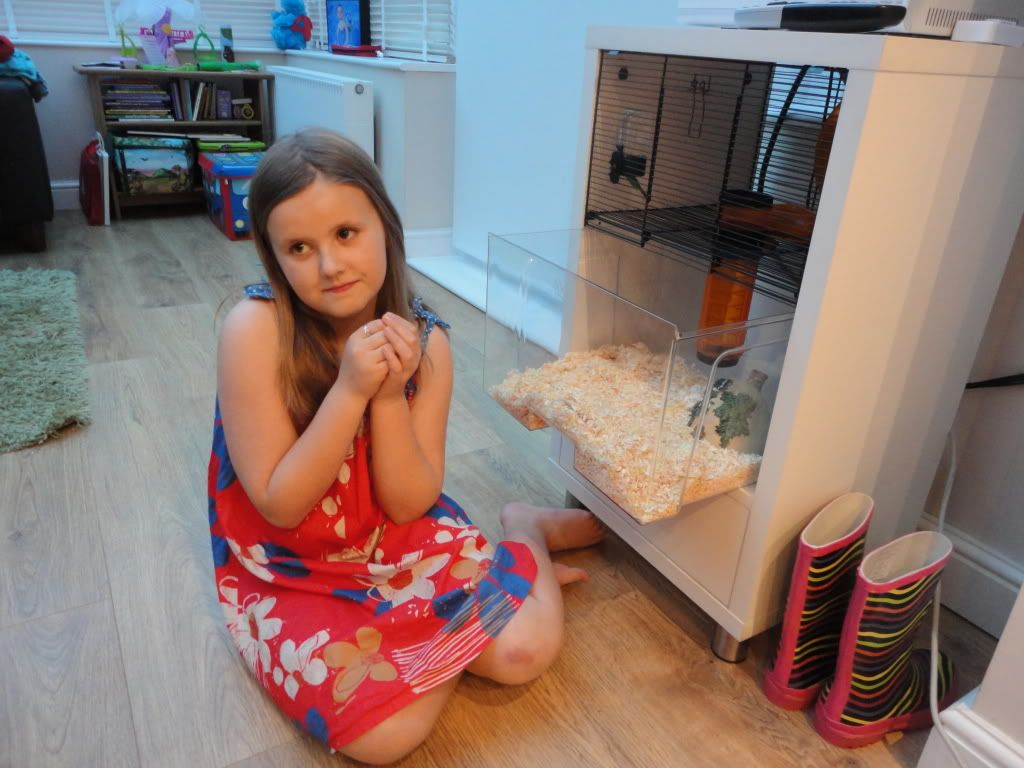 We have been provided with the Qute hamster house for the purpose of this review.