Lite Sprites from WowWee Toys live an an enchanted land called Lite-Topia and love to share colour with other Sprites.

There is a range of playsets and figures that can be purchased individually but you need to have the Lite Wand to be able to use the sets and figures to their fullest.
At first I wasn't quite sure what they were supposed to do, even after reading the instruction booklets, but after playing about with it we soon got the hang of it.
The wand comes with 10 built in colours and through a series of button pressing the colour can be shared with a Lite Sprite or playset (from a range of up to 2 metres) and that colour transfer. It's also possible to add new colours (this is the part that 11 year old Sam was quite impressed with). If you place the wand onto a colourful flat surface and press the button the wand recognises that colour and stores it in it's library, until the wand is turned off.
There are also games that can be played and spells that can be cast - for example one of the Lite Sprites, Bleak, won't accept colour from the wand until you unlock her by casting a spell - by choosing a particular spell stored in the wand and pointing it at Bleak. This will then unlock her so that she can accept colours.
Individual playsets can be purchased and joined together by pathways to make one huge colourful playset. All the Lite Sprites are also sold individually but one of them comes in a set with the wand.
We were sent the Tree if Lite playset which lights up and also plays music when you spin the treetop around. There is also a lift that goes up and down which also plays sounds. Each Lite Sprite pod can be hung from the hooks on the treetop and the Lite Sprites can hang out in their pod, whilst you spin them around.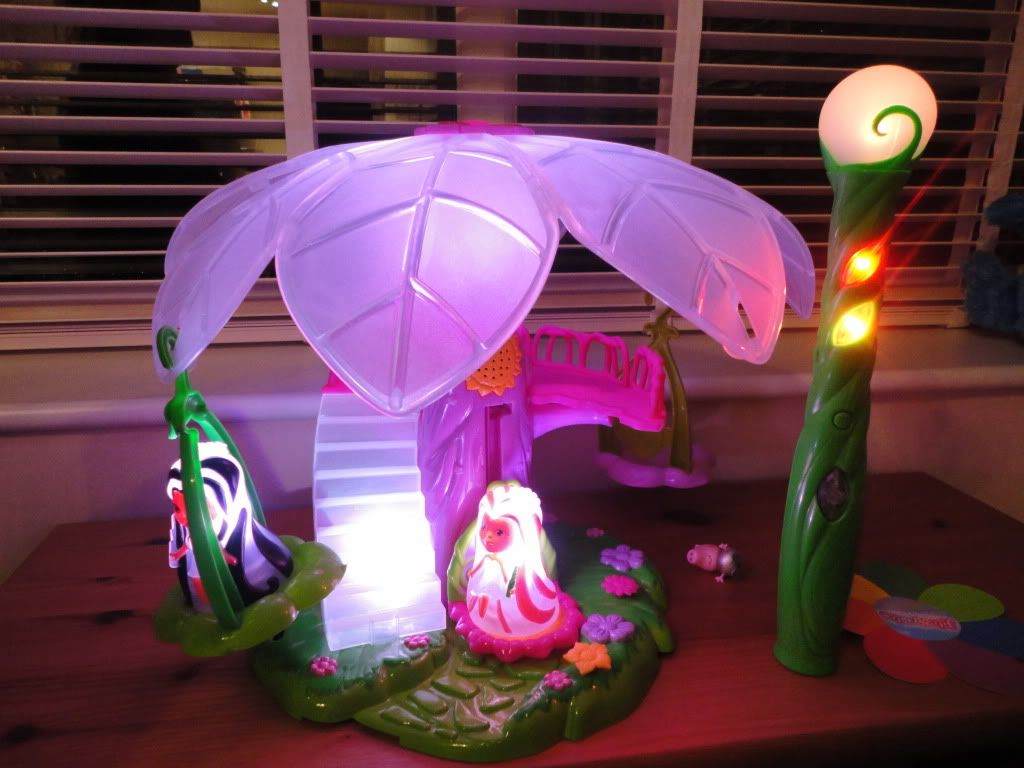 I think the Lite Sprites are great for any little girl (or boy) with imagination and the love of fairies. I do think that it could work out quite expensive though to get the whole Lite-Topia world as the Tree of Lite retails for around £39.99, the Lite wand (with figure) for £29.99 and each additional figure at £14.99 but I'm sure the complete set would give hours of enjoyment.
Here's a little video showing the Lite Wand and Tree of Lite in action (excuse the whinging in the background!)
We were sent the Lite Sprites Tree of Light, Lite Wand and figures for the purpose of this review.