Second stop on the World Foods Fusion Taste Team journey is Thailand - the land of smiles.
Pad Thai is one of the first dishes that people associate with Thailand, along with Thai Green Curry. I've cooked Green Curry before but never Pad Thai and the Pad Thai dishes from some of the rest of the team looked delicious so I was keen to try this. We were given a recipe for Pad Thai that we could follow or change to suit our tastes. We were also given two other Thai recipes, Tom Yum Goong and and Tom Yum Seafood Rice so I decided to give them all a go and have a banquet! In the end I only ended up cooking for 3 of us (again), myself, husband and 10 year old Sam - Jack had been to a party where he had been fed and Hanna was invited to a barbecue at a friends house.
First up was the Tom Yum Goong which is a hot and sour soup with prawns that can be toned down with a touch of Coconut milk. I found that I couldn't eat too much of this as it was very spicy, even with the coconut milk & although my husband liked the taste he fished out the prawns and mushrooms and left most of the soup as, again, it was too spicy for him - maybe next time less paste, more coconut milk for our delicate taste buds!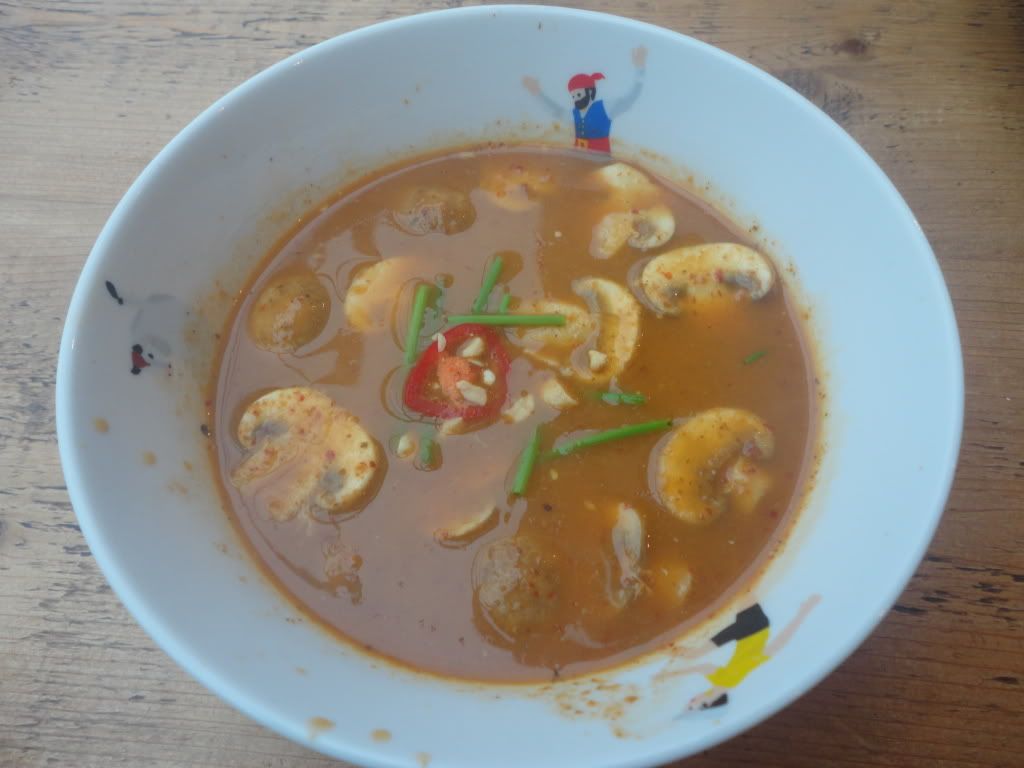 In the Pad Thai I used a mixture of chicken and Prawns along with Rice Noodles instead of the usual flat noodles (mainly because I had a larger pack of rice noodles!). The dish is thrown together easily in minutes and you can make it as mild or spicy as you like. I didn't add extra chillis for Sam as he doesn't like it too spicy but added some sliced chiili on the top of mine and my husbands, along with crushed peanuts. We all enjoyed this dish and all plates were cleared so it's definitely one that I'll try again.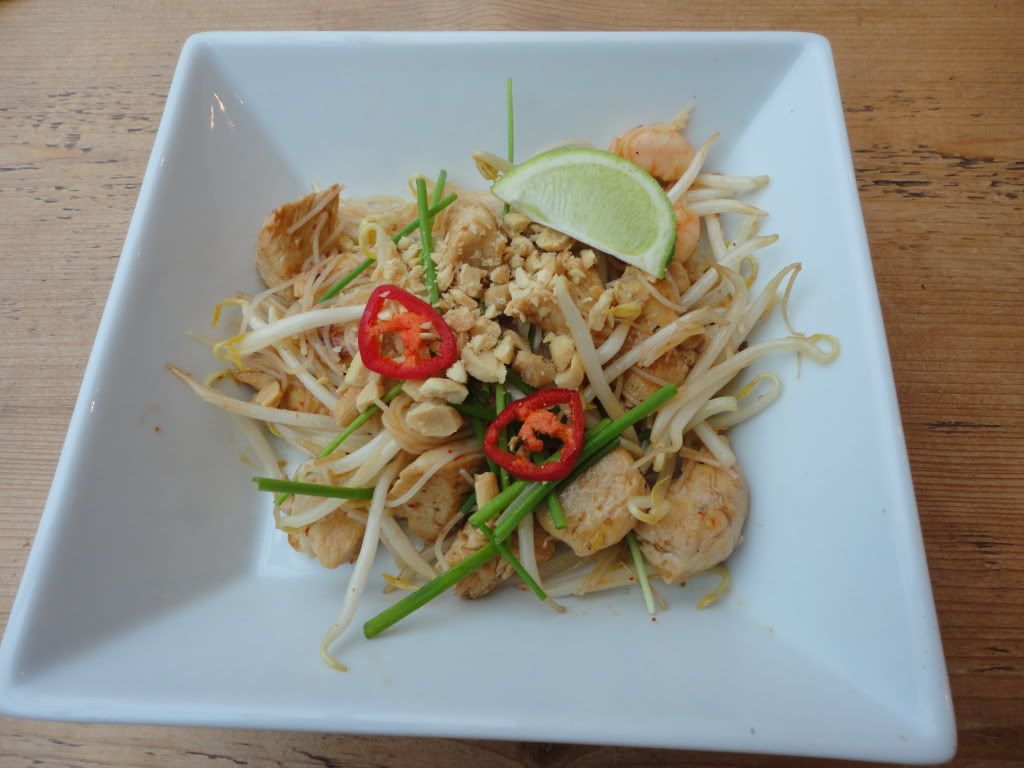 The Tom Yum Seafood Rice was served alongside the Pad Thai and was another big hit, although Sam refused to try the prawns, even with a bribe of £1. Another easy and quick dish to prepare and another that I'll definitely try again, although I may do it with chicken next time.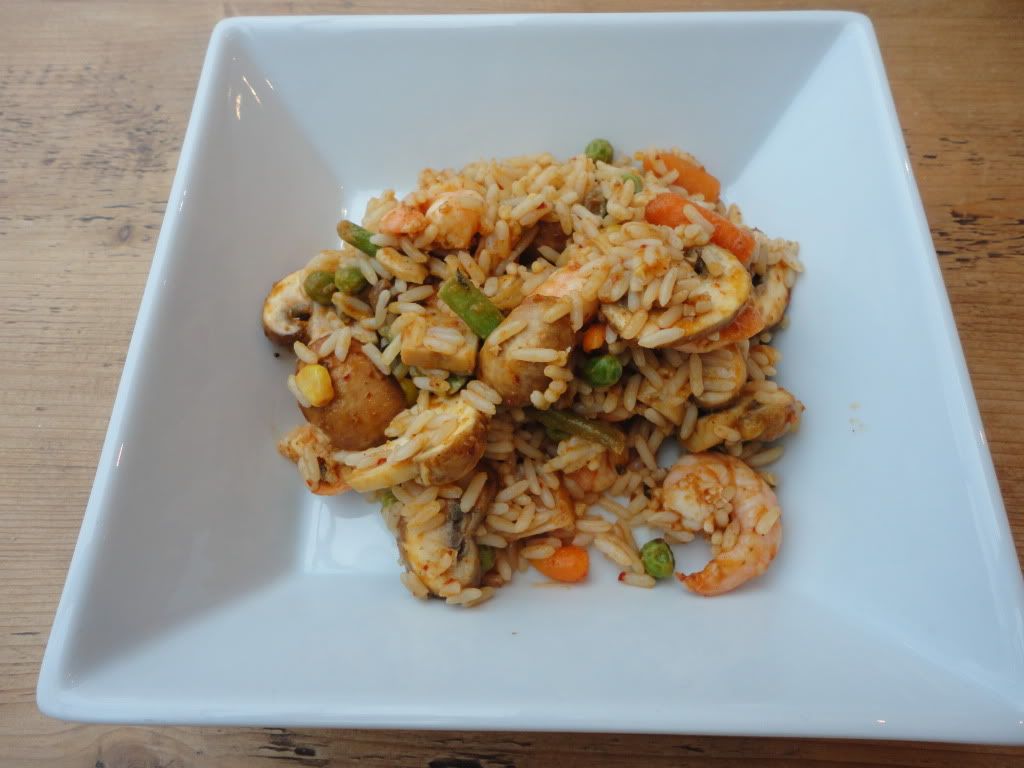 Here follows the Worldfoods recipes for the above dishes :
Pad Thai, by May Foong
Serves 2-3 people
Ingredients:
100g (or any combination of) Prawns / Chicken / Tofu
20g Chives, cut into 2" length
100g Bean sprouts
80g Flat rice noodles (information here:
http://bit.ly/qU8WIl
you can substitute with other noodles if you wish)
1 bottle WORLDFOODS Thai 'Pad Thai' Noodle Sauce
2 tbsp cooking oil
Optional - add eggs (within the stir fry or as an omelette), spring onions, fish sauce, extra chilli pepper into the stir fry
Garnishing:
Pounded roasted peanuts
Coriander
Lime wedges
Chilli flakes
Sugar optional (palm sugar traditionally added in Thailand)
Cooking Instructions:
1. Blanch the noodles in boiling water for 3 minutes untill semi-soft. Drain and set aside.
2. Heat flavourless oil such as groundnut oil in a wok and pan fry the prawns until they turn pink, and set aside.
3. Pour in WORLDFOODS Thai 'Pad Thai' Noodle Sauce and bring to boil.
4. Add in the noodles and prawns and toss gently till well mixed.
5. Plate up the noodles and prawns, and add the chives and bean sprouts.
6. Garnish with roasted peanuts, chili flakes and lime wedges.
7. Enjoy!
If preparing the dish for children you might want to omit all chilli from the dish, depending on their taste.
May's Thai Tom Yum Goong
serves 2-4
4 tbsp Tom Yum Paste
200ml water
60g shrimp
60g straw mushrooms (or any variety you wish)
(optional 100ml coconut milk)
1. Stir in 4 tbsp of Tom Yum Paste in 200ml of water and bring to a
boil.
2. Add in 60g of shrimp, peeled leaving tails on and 60g
of mushrooms.
3. Simmer over medium heat until shrimp is
cooked.
4. Stir in 100ml of coconut milk and bring to a boil.
5. Garnish with coriander leaves.
May's Tom Yum Seafood Rice
Serves 2-4
1 tablespoon olive oil
300g (10.7 oz) cooked rice, cooked as per pack instructions
100g frozen mixed vegetables
6 fresh mushrooms (optional), halved
1 thin slice ginger, finely chopped
100g (3.5oz) raw prawns, shelled and deveined
1.5 tbsp WORLDFOODS Thai Tom Yum Paste
1. Heat the oil in a frying pan or wok. Add ginger and stir fry till fragrant.
2. Stir in the tom yum paste and fry for 1 minute until aromatic. Add mixed vegetables, mushrooms, prawns and stir for 2 minutes.
3. Stir in rice and cook for further 5 minutes until heated through.
*Rice for frying can be cooked at least 2 hours in advance or the night before - this ensures that it is slightly less moist and better for stir-frying.