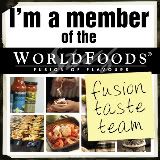 This week on the Worldfoods Fusion of Taste journey we are stopping at Vietnam, admired for it's use of fresh ingredients and healthy eating style.
We were given a few recipes to give us some ideas for what to cook and I liked the sound of the

Coconut Chilli Breaded Pork Rolls, however as I'm trying to be reasonably healthy I decided to give the deep frying and the breaded roll part a miss and adapt the filling slightly.
In my dish I used all the ingredients listed, substituting the coriander root for fresh coriander and added in some mushrooms. I fried it all together in some oil and then tossed in some Coriander infused noodles (hence the dark colour) and topped with crushed peanuts and chilli flakes and a wedge of lime. It was an extremely quick dish to prepare and cook and tasted delicious.
The Worldfoods recipe follows:
Coconut chilli breaded pork rolls
Ingredients
1 tbsp carrot, finely chopped
1 tsp garlic, finely chopped
1 tsp coriander root, finely chopped
1 tsp light soy sauce
1/3 tsp ground black pepper
1 tsp corn flour
2 tbsp WORLDFOODS Thai Turmeric Lemon Grass Marinade & Stir-fry
200g (7.1oz) minced pork
5 slices white toast
Oil for deep frying
Sauce
1 cup WORLDFOODS Malaysian Sweet Chilli Coconut Marinade & Stir-fry

4 tbsp coconut milk

Cooking Instruction

1.

Mix minced pork with first 7 ingredients and set aside to marinate.

2.

Flatten white toasts with rolling pin.

3.

Spread meat filling onto flat toaste and roll it up tightly. Pin the ends of each roll with a toothpick.

4.

Heat oil in a pan until hot. Reduce heat to medium and deep fry each roll until golden brown. Set aside to drain on paper towels.

5.

For the sauce, heat WORLDFOODS Malaysian Sweet Chilli Coconut Marinade together with coconut milk until it boils. Serve immediately with the roll.

6.

Alternatively, serve hot with WORLDFOODS Malaysian Sweet Chilli Coconut Dipping Sauce.