The Crazy Kitchen clan has just returned from a fun-filled weekend in sunny Devon which started on Friday afternoon at 3.30 when the kids were collected from school. After a brief detour via the Golden Arches we were on our way and, Fridays being what they are on the M6/M5, we arrived at our destination at 8.45pm to a much needed glass of wine and spag bol.
Saturday we were up bright and early as usual and after breakfast headed off to Dartmouth where we had arranged to meet Karen from Would like to be a Yummy Mummy and her family. On the way to our meeting we happened to spot a familiar face at the Station and had to stop for a few minutes to say hello and help fill Thomas up with water.
We then caught the ferry for the short journey across the river to be greeted by the Town Crier of Dartmouth (well I'm pretty sure he wasn't actually greeting us) and after a few text messages & missed phonecalls we managed to find Karen and her family - you wouldn't think there would be many people strolling the streets of Dartmouth at the end of October but this weekend it happened to be the Food Festival so there were masses of people
The plan was to go crabbing as when we were down there earlier in the year the kids caught loads of crabs in Dartmouth and had been asking to go back there ever since. Karen's husband kindly provided the bait of raw bacon, Sam & Hanna bought some crab lines and a very large crab bucket and they were off.
It didn't take long to fill the buckets and I'm told that a total of 19 crabs were caught - although I never managed to get a photo as they threw them all back in whilst I was too busy talking! We had a nice stroll around the Food Festival and the kids had a running race around the park before it was time to bid our farewells to the lovely Would Like to Be a Yummy Mummy family.
We then went for a brisk walk along the seafront in Paignton and onto the pier to have some fun in the amusements and of course an ice cream, before heading back to my Brother's to have a Chinese and watch X-Factor.
The following morning we packed up and headed up to the North of Devon where we called in on the lovely Jenny from Mummy Mishaps and her family. What a fabulous hostess this lady is, bacon and sausage sarnies were laid on, followed by yummy homemade cakes. The kids played happily together once the initial shyness had been overcome and Burton showed us what a little star he is with his potty training - and gave us a few little flashes along the way! Hanna had a go at feeding Jenson and Sam entertained Burton with his football skills - until he hurt his toes and required Peppa Pig plasters. As we were leaving we all had a hug and a kiss from Burton who also insisted on doing a little dance too!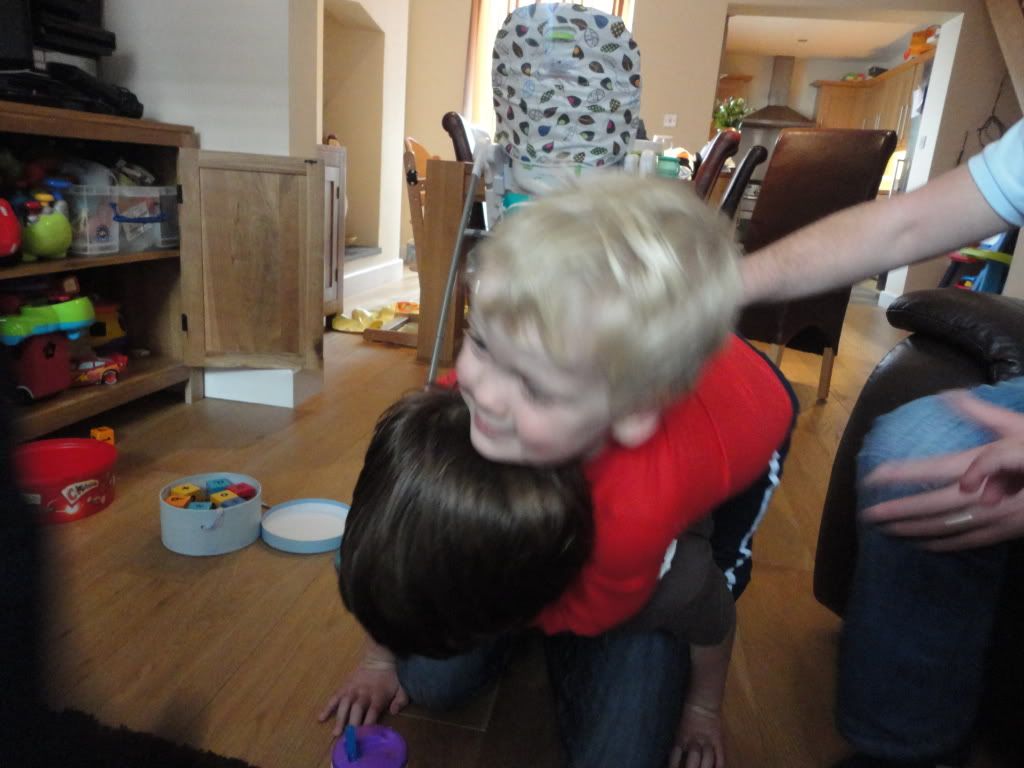 Giddy-up Sammy!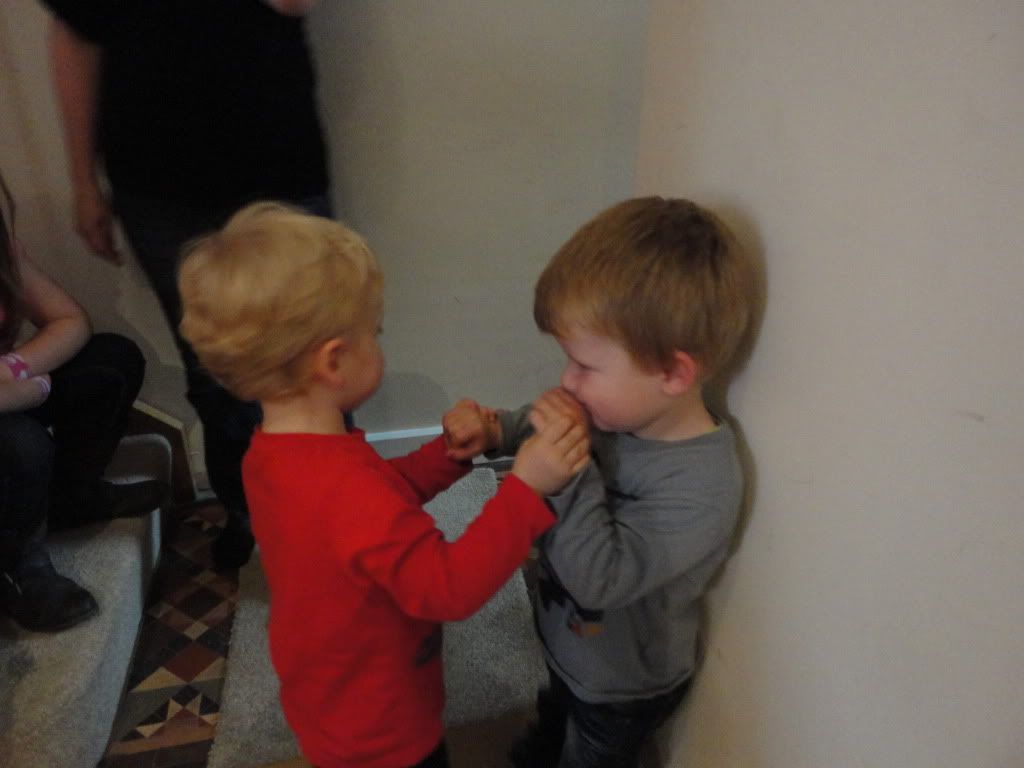 Shall we dance...
We then went off to Clovelly for the main reason for our visit down to Devon - to see Hanna's adopted Donkey as we hadn't seen him for over two years. Unfortunately Hanna was feeling a little under the weather but still managed a ride around the field before retiring back to the car looking a touch on the grey side. She was so pleased to get to see Charlie the Donkey again and even received a lovely card from him so she could remember her day.
Our day ended with a cosy stay in a Travelodge before heading home the following miserable rainy morning.