This morning I woke up feeling a little under the weather but as we had no Beechams or Lemsip or similar in the house there was nothing else for it........as a pick me up (for medicinal and research purposes only of course) I turned to the fabulous box of Christmas chocolates that had arrived from Hotel Chocolat the previous day. I made myself a nice cup of steaming latte (skimmed milk of course as I'm watching my weight!) and lifted the lid on The Sleekster Classic Christmas Selection and inhaled the marvellous Christmas smells. I made my choices carefully and selected a Rum Truffle, a Champagne Truffle and Mulled Wine and they did not disappoint.
On the guide each chocolate has a tipple symbol, either no alcohol, just a little to preserve and soften or a generous dash - the Rum Truffle had a generous dash and I could sure taste it. In fact I felt a little light headed after the 3 chocolates - maybe a combination of my fluey head, lack of a real breakfast, the sugar rush and the alcohol but I had a lovely warm feeling inside anyway.
I'm not usually a 'box of chocolates' kind of girl as I only tend to like the nuts,soft caramel or truffles so I would
normally
prefer a box of single flavours, but having eaten quite a few of these so far I can honestly say that I haven't yet tried one that I haven't liked - the Salted Caramel with its oozingly soft caramel beautifully balanced with a pink of Maldon sea salt has been my favourite so far....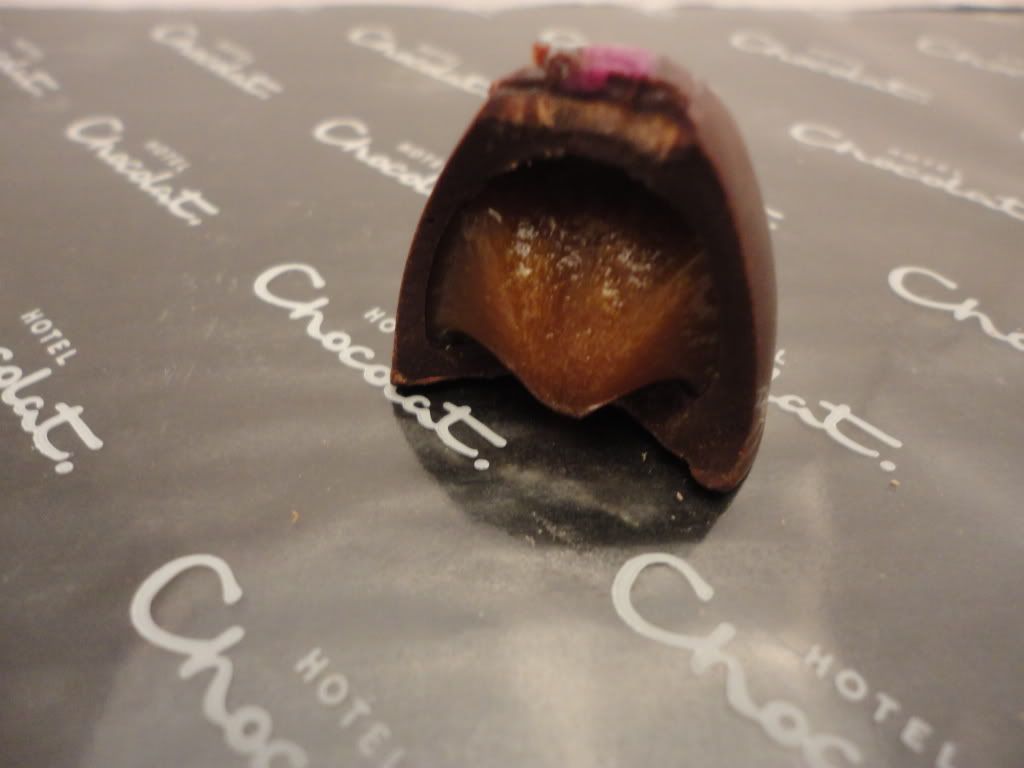 Salted Soft Caramel
...followed a close second by the Rum Truffle with its lashings of premium golden rum from Saint Lucia. The prettiest in the box has to be the Christmas Mess, a take on the classic Eton Mess, with it's upliflingly fruity mousse made with white chocolate and lots of strawberry and raspberry and finished with crushed meringue and strawberry pieces.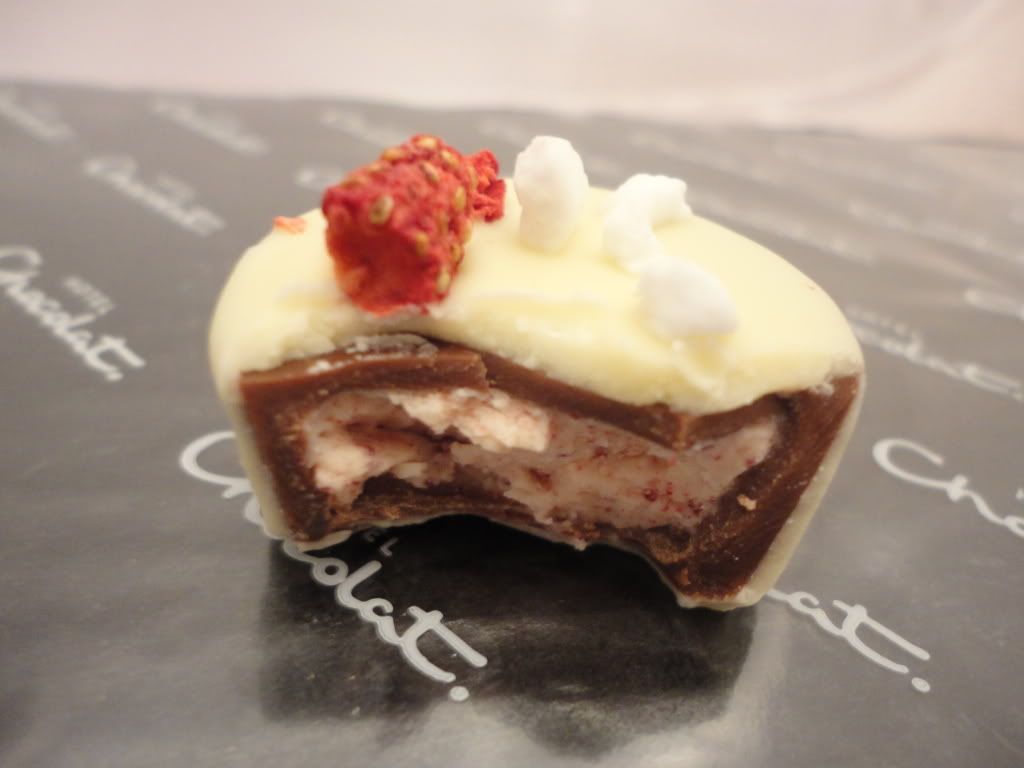 Christmas Mess
Other flavours include Ginger Cheesecake, Chilli Truffle, Cinnamon Praline and Gingerbread Truffle to name a few - perfect if you love all those warm Christmas flavours.
Now if these have made you hungry then go and have a look at all the other divine Christmas chocolates from the Hotel Chocolat Christmas range and stocking fillers. I particularly want to try the Alternative Mince Pies and hope that I'm lucky enough to receive them in my Christmas stocking this year - Husband, are you reading this?
The Hotel Chocolat Classic Christmas Selection is available for £22.00 for a 350g box of 28 chocolates in 16 varieties. My only criticism is that as there are 16 different chocolates in the box it means that I have to eat 16 chocolates (at least) to find out that they are all as good as the last!
I will be giving a box of these away in a competition very soon so keep your eyes peeled for that!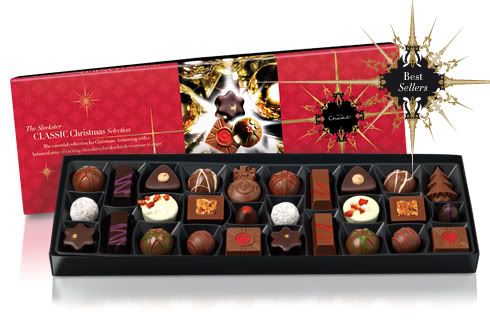 I was sent a box of these chocolates for the purpose of this review - all the opinions, and of course the chocolates are all mine, let me repeat ALL MINE!