Tonight my baby is no longer a baby.......for the first time in two and a half years he has gone to bed without his 'Dodie' (dummy). I'm a little bit sad if I'm honest and part of me wishes that we hadn't had the 'dummy chat' tonight and I could just go up and see Jack's little mouth going up and down as he sucks away in his sleep. It wasn't really planned although it had been at the back of my mind for a while. Jack only has his dummy at bedtime and naptime and has done for quite some time. When he wakes up in the morning he wraps his dodie in his taggy and leaves it in his bed, although I do sometimes catch him sneaking in to get it before he goes to play in his big brothers bedroom and has a little giggle when I go upstairs and catch him red handed sucking away!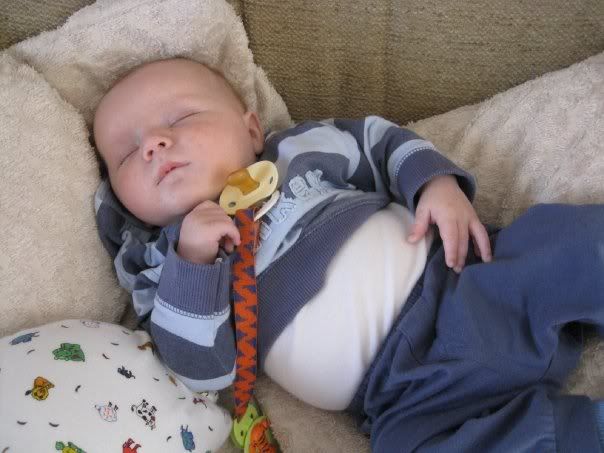 2 months old
Tonight Jack was sat on my knee just before bedtime and he mentioned going up to bed and getting his taggy & dodie & I just said 'you don't need your dode, you're a big boy now, shall we give it to a new baby?' and he said 'yes'. We had a little chat about how we would wrap it up and send it away to a baby that needs a dummy and as a reward for being a big boy he would get a present. There was no going back now.........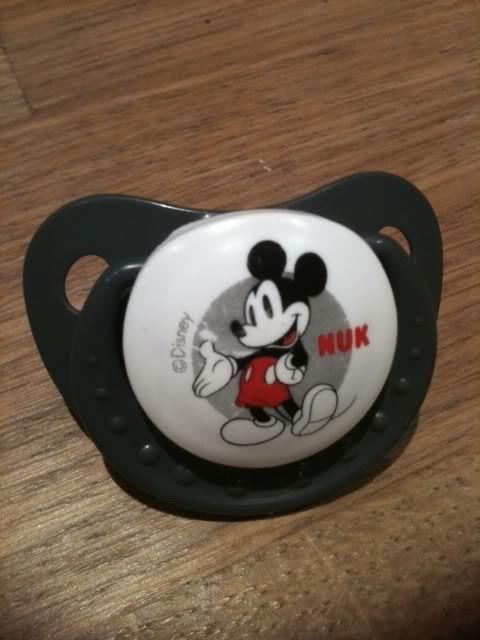 He was really excited about sending the dummy away and quite happy to go up to bed with Daddy......and then the cries of 'I want my dode' started........ To make sure Daddy didn't give in I went upstairs and gave him an extra taggy and settled him down. The dummy was by now in my jeans pocket and there was no way I was giving in......
5 minutes later I could still hear whimpers from upstairs so again I went up and settled a very hot & snotty faced Jack. He asked for his blanket (his favourite one from Fairy) and settled down. That was two hours ago and although I don't want to count my chickens I think we may have cracked it.
Just the potty training now then.............