On the run up to Christmas I will be posting some Gift Guides featuring various products suitable to give your loved ones at Christmas. Some of them I may have reviewed previously on this blog and for those I will have a link to the relevant post as well as details of stockists, for the others I will include as much information regarding stockists and prices as I can, and links where possible.
I love anything for the Kitchen, if on Christmas morning I had a pile of Kitchen related gadgets and accessories I would be very happy indeed.
Find me a gift is a website where you can find many such kitchen gadgets and exciting things to fill someones stocking with (a word to the wise to men though - please only buy kitchen related presents for your nearest & dearest if you know they really would prefer them to a diamond ring or new pair of shoes!)
Some of the items I would like in my Christmas stocking this year are:
Joseph Joseph Nest of Bowls £17.99
This set includes 2 mixing bowls, a colander, sieve and measuring spoons that neatly stack inside each other, perfect for space saving & in great colours too.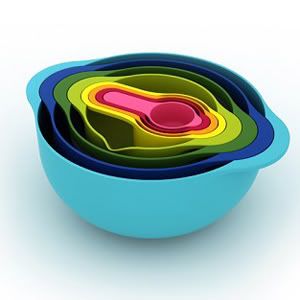 Joseph Joseph Elevate Spatula Set £24.00
I had two great little spatulas up until recently that I bought a few years ago from a Pampered Chef party, earlier in the year one of them snapped & then last week the other, so now I'm left with Jacks mini spatula from his Tala Baking set. £24 is a bit pricey for spatulas but they do come in a 'stylish box'!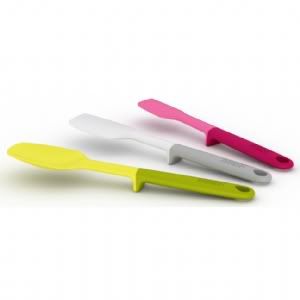 Joseph Joseph Rocker Garlic Press £16.00
A nifty little gadget that requires minimum effort and doesn't result in stinky garlic hands.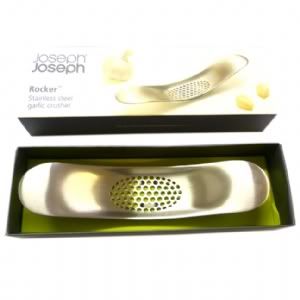 You may have realised that I like Joseph Joseph products, and therefore I was thrilled when Find Me a Gift sent me the Joseph Joseph Chopping Boards Food Station * (£17.99) which is a set of colour coded chopping boards and toughened glass worktop saver. When you're done all the boards stack neatly on top of the worktop saver - another great space saving invention.
I also like cakes and baking and sometimes you need to take the guesswork out of measuring and that's where measuring spoons and cups are great, and you don't need to have boring plain plastic or stainless steel ones when you can have Cupcake ones (£2.99 spoons, £4.49 cups).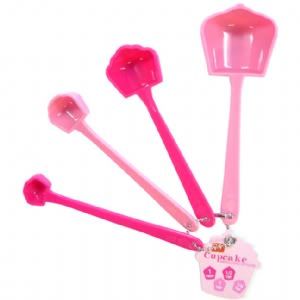 or even Russian Doll measuring spoons * (£5.99)
How about an apron set for that man in your life - Novelty Apron (£11.99)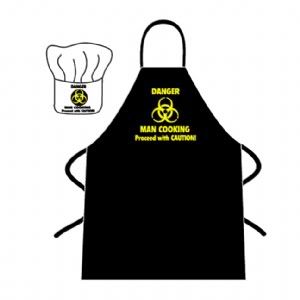 or a gorgeous 1950's apron * for your Domestic Goddess (£17.31)
For another stocking filler, or to have on the Christmas table if you're having family around, how about these fab Mealtime masterpiece paper placemats (£7.49) - a pad of 48 framed pages for your little one to doodle away on at mealtimes. They even come with a pack of 6 coloured pens.
I've always been a bit of a sucker for tins and boxes and have been looking at festive cake tins to fill with baked goodies to give away as Christmas Gifts and here are some of those that I've found :
Partridge in a Pear Tree Cake Tins - £16.99 from Lakeland
Mr Cake tin - £13.00 from Amazon
Retro Cake Tins - £20 from twentypoundcity
Gingerbread Cake Tins - £4.99 from Dunelm
Cupcakes Cake Tins - £8.99 from Dunelm
For the Ultimate Christmas gift why not splash out on a Kitchen Aid Mixer - no kitchen should be without one (in my opinion) and although most of them retail for well over £300 I have located one for a bargain £284 on Amazon.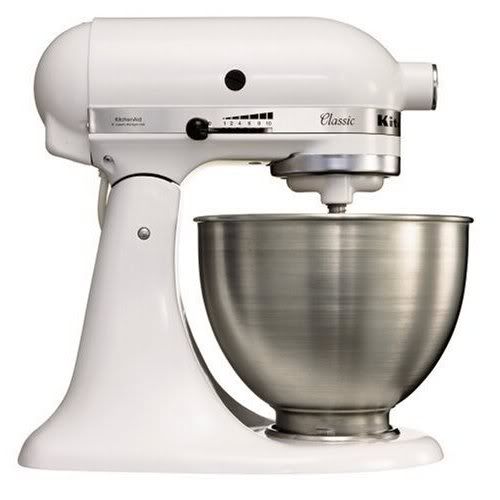 I was sent the 3 items marked with * by Find Me a Gift for the purpose of this review. I have chosen to add the other products to this gift guide for the benefit of my readers.