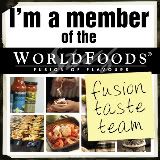 Some time ago I shared news of a competition on my blog that Worldfoods were running to win a fabulous hamper of goodies. I am now a proud recipient of some of the contents of that hamper as I recently got selected to be part of the WorldFoods Fusion of Flavours Taste Team, where every week we are given a recipe suggestion to use with some of the products that we've received.
This week the journey went to China with Chinese Ginger Garlic Chilli Sauce. Without a Chinese grocery nearby I was forced to rely upon Tesco.com to bring me my stir fry ingredients. Unfortunately they didn't stock the likes of fresh Kaffir lime leaves, clusters of fresh green peppercorns, Galangal or Sweet Basil leaves so instead I opted for dried lime leaves, peppercorns in brine, fresh ginger and left out the sweet basil.
Chilli & Ginger Chicken Stir Fry
tbsp Sesame Oil
1/2" piece of Fresh Ginger - finely chopped
3 Chicken Breasts, cut into strips
1 jar WORLDFOODS Chinese garlic chilli sauce
5 dried Kaffir Lime leaves, crushed
tsp Green Peppercorns in brine
100g Chestnut mushrooms, sliced
100g Broccoli Florets
Red Pepper, sliced
1/2 red chilli, finely sliced
Heat the oil in a wok and add the ginger and chicken, stir fry for 2-3 minutes

Add the sauce, lime leaves and peppercorns to the pan

When the chicken is cooked through add the remainder of the ingredients and fry for a further 3-4 minutes
This meal was cooked in a matter of minutes and my eager tasters (husband and 10 year old son) were impressed with the speed that I had rustled up a great looking meal. They both really enjoyed it although Sam picked out a few of the peppercorns and chilli slices, preferring to go down the less spicy route. It was a big hit and all plates were left clean.
Here are two recipes that were suggested to us by Worldfoods but, as I am not a great lover of seafood, opted for a version using chicken instead.
Prawn ginger and chilli stir-fry (serves 4)
1 jar WORLDFOODS Chinese ginger garlic chilli sauce
5 leaves kaffir lime leaf, coarsely ripped
5 clusters fresh green peppercorns
20 g chillies, diagonally sliced (if you want to add extra heat)
4 stems galangal, julienned
1. Heat WORLDFOODS Chinese ginger garlic chilli sauce in the saucepan.
2. Add in prawns and stir until they are cooked. Follow by other ingredients, stirring occasionally until the sauce thickens.
3. Serve with jasmine rice or rice noodles
Fried clams with ginger garlic chilli sauce (serves 2 – 4)
If you don't want to use clams/mussels you can always substitute a seafood mix instead.
150ml (5 fl.oz) WORLDFOODS Chinese ginger garlic chilli sauce
600g (1.3lb) fresh clams/mussels in shell,
cleaned 1 tablespoon fresh coriander
chopped 1 tablespoon cooking oil
1. Heat cooking oil in a large saucepan, add the clams/mussels and cook until the clams open slightly.
2. Add in sauce and stir for 1 minute.
3. Add in coriander and stir to mix well.
4. Serve with Jasmine rice or rice noodles.
You should be able to find galangal, sweet basil and kaffir lime in Asian supermarkets, but you can substitute alternate ingredients if you wish such as adding normal ginger instead of galangal.