On first impressions the Deluxe Workshop looks like a great set that any budding workman (or woman) would like to get their hands on.
The 'wood' inside is 'Kid Wood', material that is specially created to look, saw and nail just like real wood, but is designed for safety and easy for kids to use.
The box depicts 8 different project ideas that can be made from the set, although in the small print underneath it states 'build 2 or more projects depending on size'. So I guess that as there is only one large cylindrical piece it perhaps wouldn't be possible to build the Tank as well as the Truck.
As the set is aimed at children six years and over, and Hanna wasn't keen on building vehicles, 10 year old Sam was my tester this time. We emptied all the pieces out to see what was included and I was quite impressed by the quality of the plastic tools. There is a variety of pieces of imitation wood in the box, along with an assortment of nails and screws in varying sizes.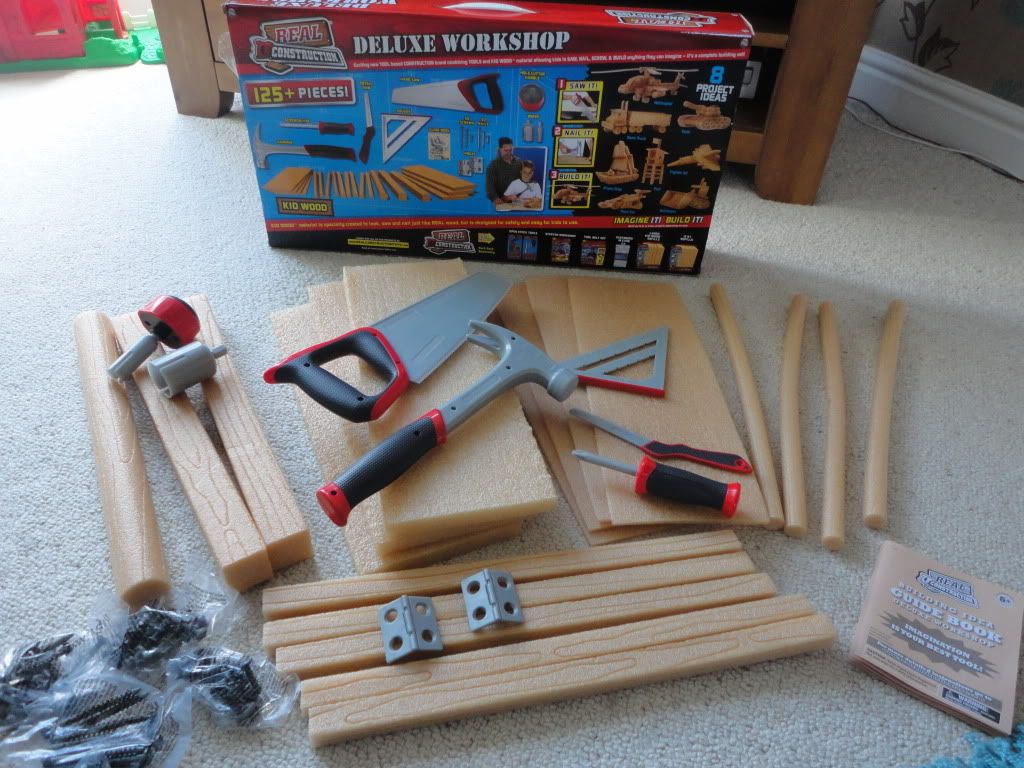 We chose to make the Tank first of all. I was disappointed to see that the guide book didn't actually give much in the way of instructions to build the vehicle or advise which pieces to use and how big to cut them, it just shows a basic picture of putting various pieces together and where nails or screws should go (not which to use). The box states Imagine It! Build It! So I guess that it is aimed at children with a flair for designing and building their own ideas.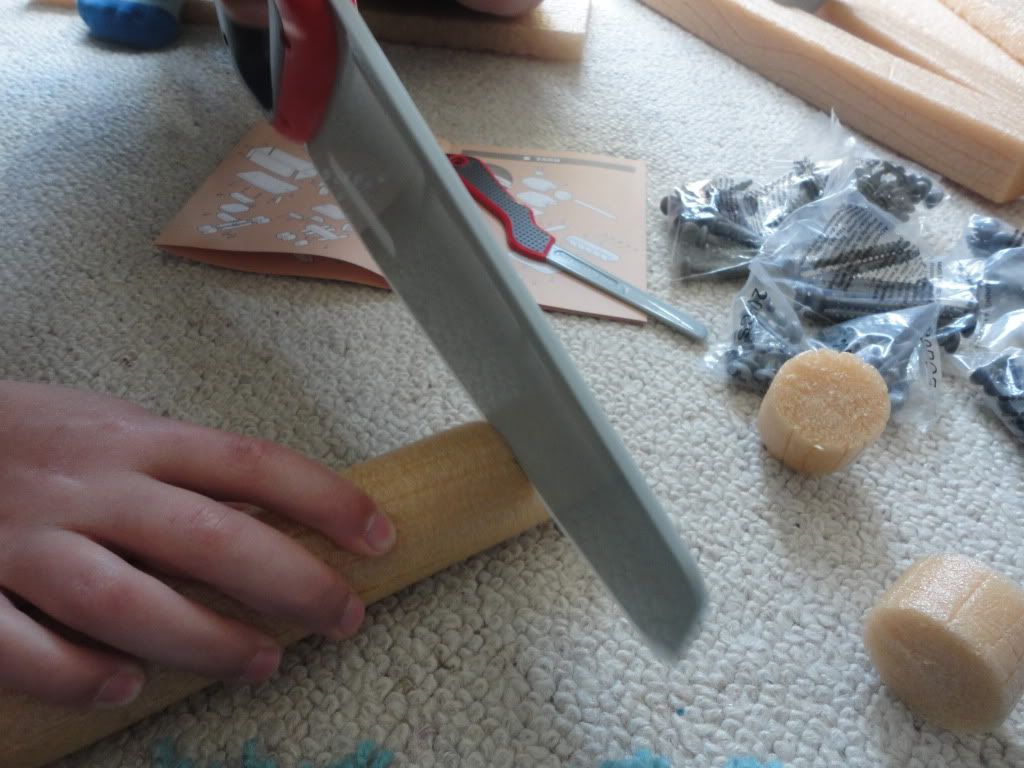 As previously mentioned, the Kid Wood is designed to be used like real wood. We didn't find this to be the case. Whilst it was reasonably simple to saw the thicker pieces with the saw included we found it easier to cut the thinner pieces with scissors. The nails/screws did not go in particularly easy either as the 'wood' is quite spongy and even hard hammering doesn't make the nails go in, we found it easier to push them in by hand.
Our end result wasn't too bad but Sam found it quite frustrating that he couldn't get the nails in by hammering as they kept popping out.
Overall we were disappointed with this set, however it may be more suited to a child with the flair and imaginiation for this kind of construction. On the plus side we could do it on the lounge floor with a very minimal amount of mess.
Real Construction Deluxe Workshop
is available online Toys R Us and retails at £29.99.
Age suitability: 6yrs +
Why not check out some of the other Toyologists Reviews and competitions on the new Toys R Us Toy Box Facebook application and find out more about all the Toyologists.