The start of a new school year is hard work....all that labelling of clothes, bags, books, bottles and more. A few years ago I started out with embroidered sew-in name labels for the kids, just like I used to have in my clothes when I was at school. They have their positive points in that they never come off and don't fade, but at the same time it takes ages to sew them all in. I quickly moved on to iron on labels but they were just plain bog-standard name labels, nothing exciting about them really. Then I came across tinyme labels and they are anything but bog-standard and plain. The designs on them are bright and fun and easily recognisable for little ones who can't read their own name. The designs include monkeys, diggers and cupcakes to mention a few, and are available in a range of colours.
There are iron on labels, shoe labels and a whole load of other labels in all shapes and sizes. They even do height charts, wall stickers, stationery & personalised bags too.
I was sent a pack of basic labels which includes 3 different sized vinyl labels which are great for books, bags, lunchboxes and bottles. I chose the pink cupcake design for Hanna and she has been labelling everything she can get her hands on. The labels are great quality and should last a long time.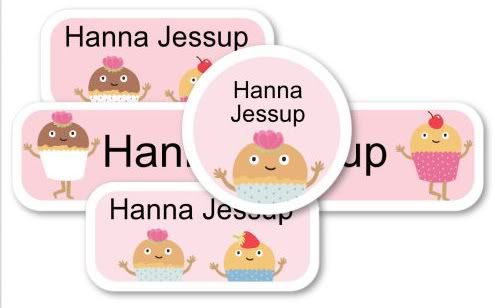 Name Label Value Pack Features
90 different design and color options.

Conformable vinyl with super sticky adhesive.

Printed at very high resolution in full colour.

Additional UV light cured gloss clear coating for additional scratch resistance .

All our name labels will adhere to most smooth, hard, clean surfaces.

Our labels are waterproof, dishwasher resistant and microwave safe.

Note: the following surfaces may not be compatible: Plastics that contain high silicon (non stick), plastics with a greasy feel and plastics with a highly textured surface.