After a false start with the delivery (broken down delivery vehicle) we finally received the Seek & Explore on the first wet day in ages. Thankfully by the afternoon it brightened up so I was able to build it with my (un)willing helper Hanna.
The box was pretty large so it was by no mean feat that we moved it from the front door into the garden. The parts were tipped out onto the grass and at this point (when I saw the bag of screws) I almost gave up.
Just over an hour later with a lot of huffing and puffing (and a small amount of swearing) the Little Tikes Seek & Explore Climber was up.
The instructions weren't too clear but after a while I got the hang of it and realised that all the screws go into a little groove in the plastic and the parts are labelled with letters that correspond with the instructions (if only they told you!).
When Jack saw it he excitedly climbed up and slid down the slide.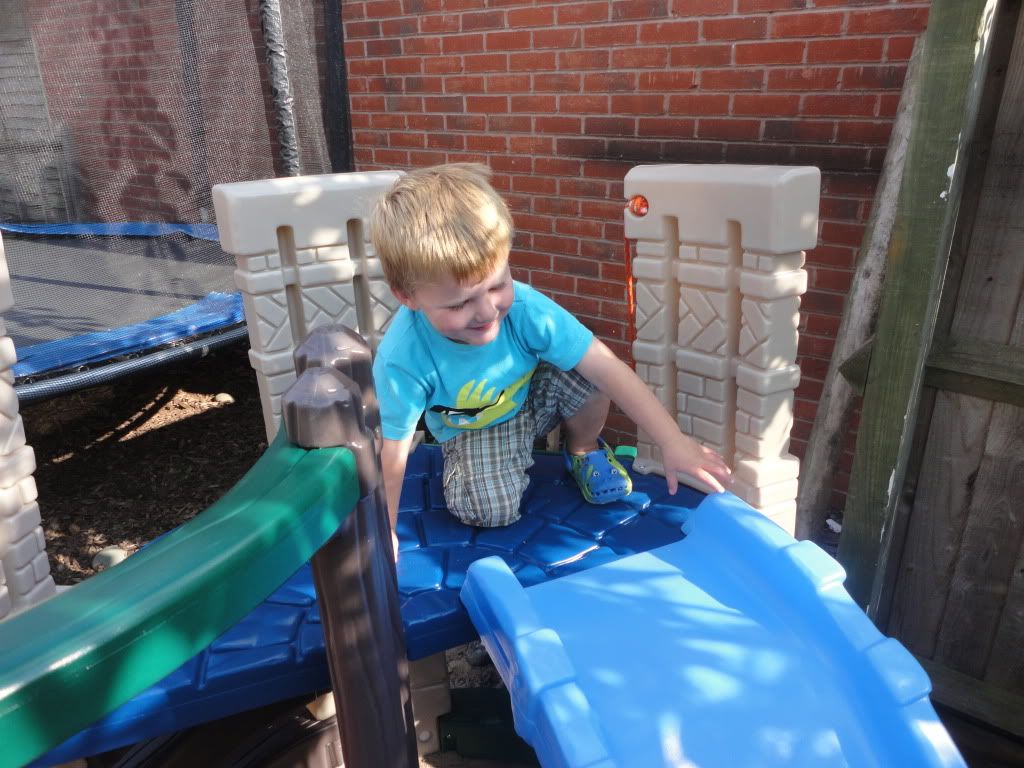 He wanted big sister Hanna to play as well but unfortunately she reached the bottom of the slide before she'd even left the top.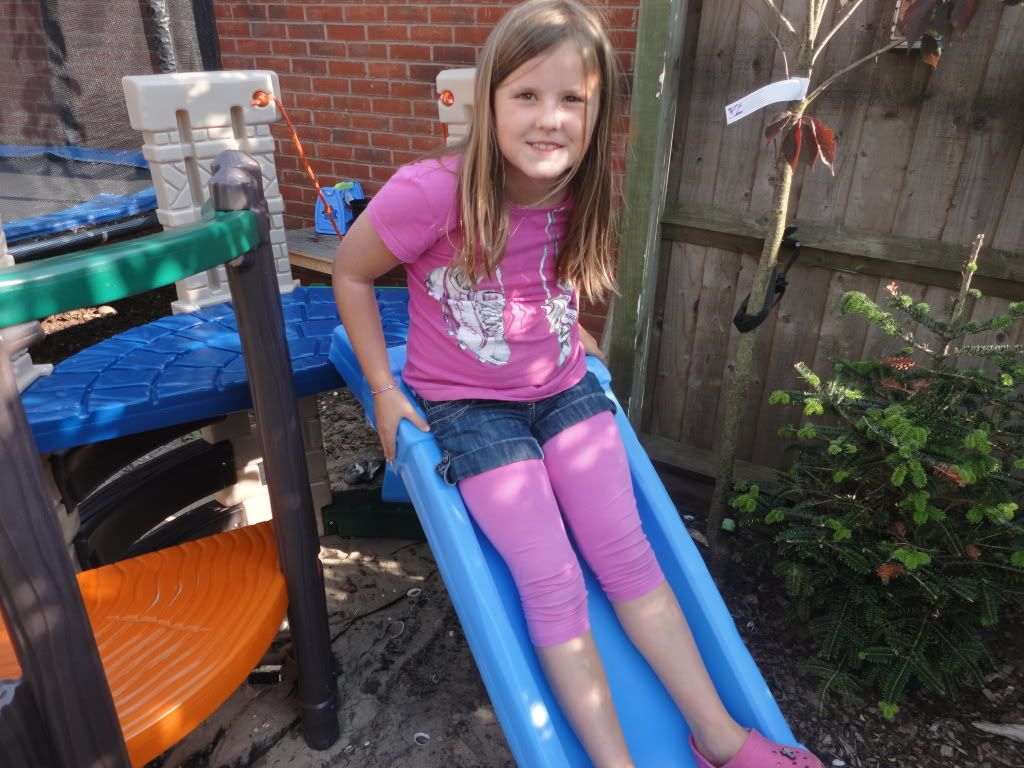 The seek & Explore has 2 climbing levels - the lower level can be climbed onto from the floor. The higher level can be reached either by climbing onto from the lower level, climbing up vertical steps or climbing up the plank, which has ropes at the side to help little ones climb up safely.
The slide does seem to be a little steep and Jack did come down with quite a bump, but it didn't seem to put him off though.
There is also a tunnel that can be attached to the climber but where we have the climber positioned doesn't allow enough room for the tunnel to be attached but the children still had fun playing with it on the grass, they even tried 'horsemanning' with it! (We have sadly lost the tunnel today, it was last seen flying through the air and over the garden fence in the tail end of Hurricane Katia!).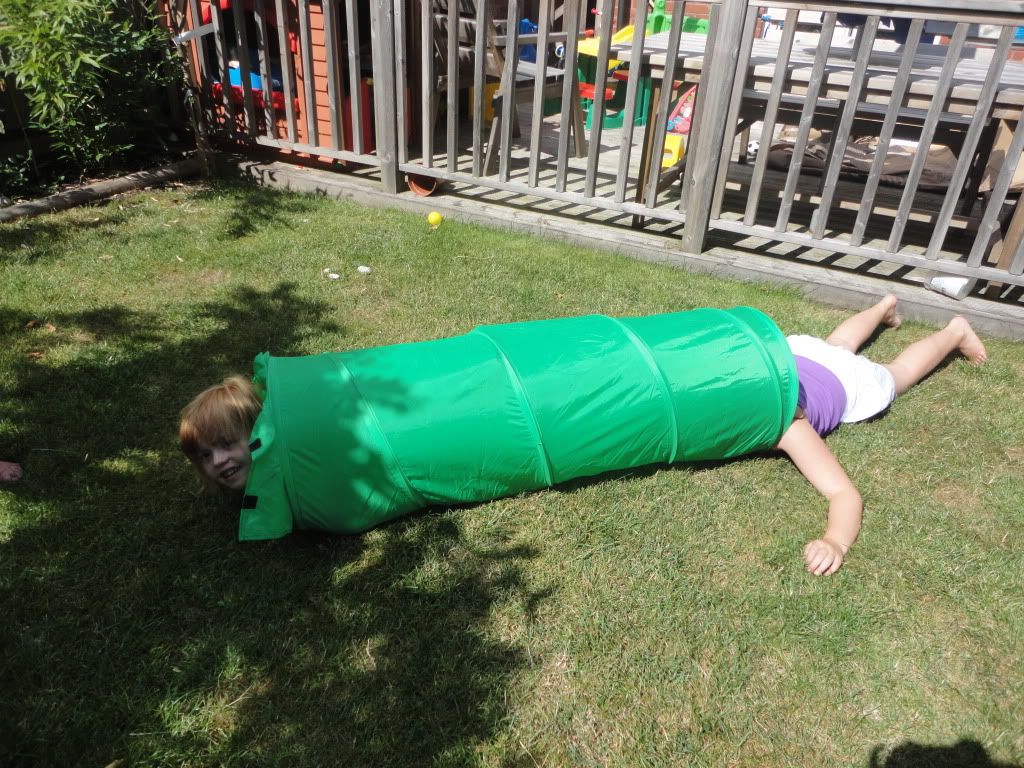 The Climber overall is very sturdy which is what I have come to expect with Little Tikes toys (we already have the Little Tikes Climb & Slide) and I'm sure Jack will get a couple of years playing with this before we pass it on to another little person to play with. The 2 platforms however are less sturdy than I expected as they seem to be made from thinner plastic than the rest and do bend a little when older children climb on it.
The Little Tikes Seek & Explore Climber is available from Toys R Us and retails at £199.99.
Age suitability: 2+ years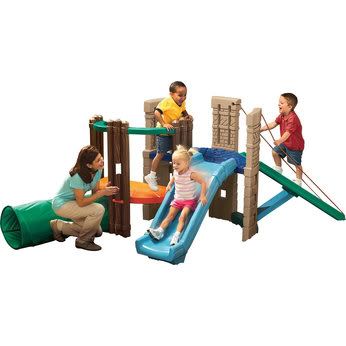 Why not check out some of the other Toyologists Reviews and competitions on the new Toys R Us Toy Box Facebook application and find out more about all the Toyologists.