Going back and forth to school recently I have seen a lot of pre-schoolers on balance bikes and some of them have now even progressed onto riding their pedal bikes without stabilisers, and this is before they even reach their 4th birthdays. Seeing this I definitely wanted to put a balance bike on Jacks Christmas list this year, so when I was approached by Kettler and asked if we wanted to review one of their balance bikes of course I agreed.
We were sent the Kettler Speedy Blue balance bike which is priced at a very reasonable £39.99, although it's currently on sale at £35.99, and is also available in pink.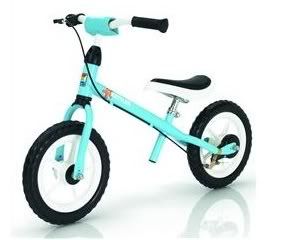 It arrived whilst Jack was at pre-school which gave me a bit of quiet time to build it before he got home. There were not many parts in the box and it was just a case of fitting the handlebars, forks, front wheel and saddle onto the frame with the tools provided.
Jack was really excited to see his new bike and got straight on and rode it around the house. Daddy loved it too as sky blue is his favourite football teams colour!
The next day, after a morning of baking and a nap to recharge his batteries, Jack was raring to go out for a ride on his new bike. The only problem was that we didn't have a boy's helmet to fit, but that didn't seem to bother Jack and I thought he looked quite fetching in his pink Barbie helmet - a new one will definitely be on his Christmas list this year.
We went for a ride down a quiet lane near to our house where we only encountered three passing cars so it was perfect for Jack as he had the full width of the road to practice his steering, without the worry that he would fall off the pavement. We went in search of cows and after Jack had spent a few minutes talking to them we headed back. Thankfully the bike only weighs 5kgs as I was forced to carry it back when Jack decided he wanted to run home instead.
The bike is suitable from 2 years and up and 2.5 year old Jack could just about put his feet flat on the floor comfortably with the seat at its lowest. On small slopes the bike did run away with him a bit and I needed to hold onto him as he couldn't quite operate the brake. Apart from that he loved it and really got the hang of walking himself along and didn't have any problem steering. Hopefully it won't be long before he glides along with his feet up learning to balance, before he moves onto a pedal bike without stabilisers.
KETTLER Speedy Blue Balance Bike

The KETTLER Speedy Blue balance bike is great value for money and offers a really pretty blue finish. Features include high quality frame with scratch resistant polyester coating, adjustable seat (35-43cm), resin wheels with rubber tread, brake and safety handles with foam protector. Suitable for children aged 2 years+. Self-assembly. Product weight: 5kg. Built dimensions: 93x58x42cm. 3 year warranty
We love the Kettler balance bike and I would definitely recommend them especially as they are such good value for money at only £35.99 with a 3 year warranty.