Jack has always been a pretty good eater starting with the usual purees and then quite quickly moving on to whatever we were eating. Although more recently he has become a bit more fussy giving it 'I don't like that'.....'I don't want that'...
I don't usually give him choices, if he's eaten something before and I know he likes it then he knows that that is his dinner and if he doesn't eat it he doesn't get anything else. Sometimes when he sees his big brother and sister eating a yummy pudding he may start to eat his dinner, other times he's just not interested. It doesn't worry me though, he usually eats a big enough breakfast and lunch to keep him going for a few days!
When Organix contacted me and asked if I wanted to try some of their new Mighty Meals I jumped at the chance. I love the Organix brand and I regularly buy the Gingerbread Men and Maize snacks. What I love about them is that they have a No Junk Promise ensuring that all their foods are made with the best quality Organic ingredients available without any artificial flavours colours, preservatives, sugar or many other unnecessary ingredients that other baby / toddler food manufacturers may use. You can read more about their No Junk Promise here.
When I opened the package I was pleased to see some items from the Organix Goodies range for us to try too , and they were not ones that we had tried before.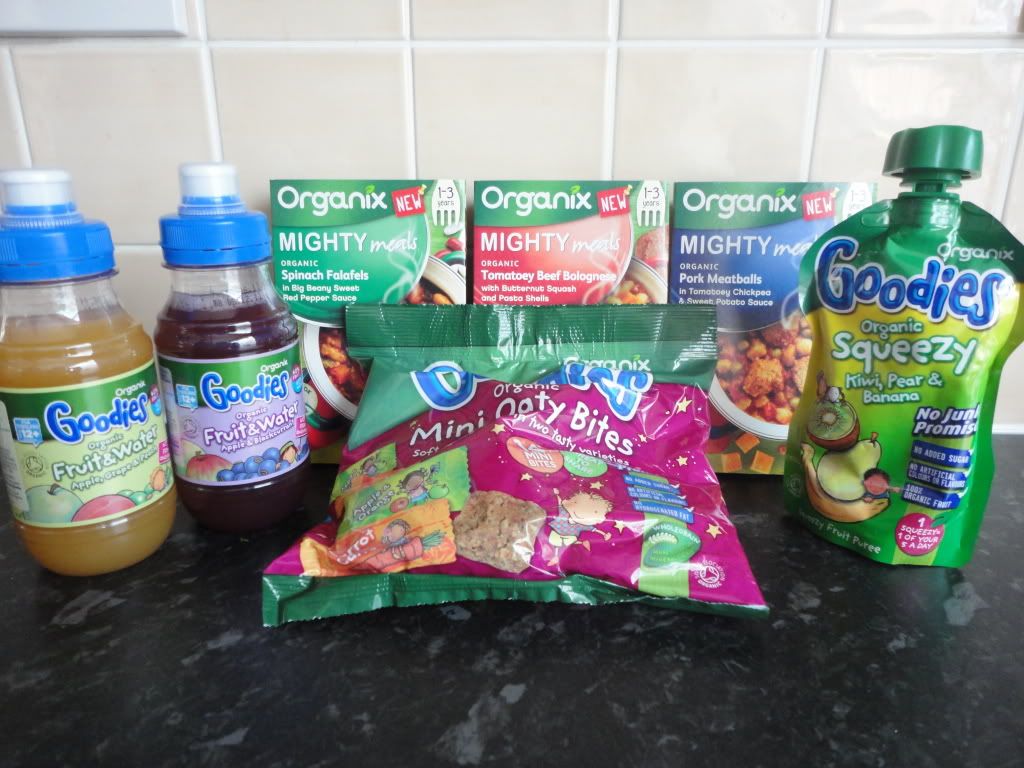 Fruit Water
Jack has tried other brands of fruit water but what I have found is that the fruit juice used is quite often made from concentrate, this however is made from the juice of real fruit. The Apple, Grape and Peach water for example is made from the juice of 1/2 an organic apple, 2/3 of an Organic peach and 2 Organic grapes along with 60% water and less than 1% vitamin C. It tasted really nice and didn't seem too watered down, in fact I watered it down further for Jack and he was perfectly happy with that.
Available in Apple, Grape and Peach or Apple and Blackcurrant for 99p each for a 200ml bottle.
Mini Oaty Bites
We all loved these little bites of oaty goodness and shared them out on a recent car journey. There are 2 flavour in the bag - Carrot Cake and Apple & Orange, and are handy individually wrapped mini versions of their larger Oaty Bars. I particularly liked the carrot cake bites but the kids weren't fussy, they loved them both. They would be perfect for lunchboxes for the little ones so I will be getting some more of these in ready for pre-school next month.
These are available for £2.69 for a bag of 14 x 10g bites.
Squeezy Fruit Pouches
If you want to get one of your five a day into your little one then these squeezy fruit pouches are an easy solution especially if you're out and about. Jack tried the Kiwi, Pear & Banana but wasn't too sure at first but on the second try he liked it - it is quite sharp so may take a bit of getting used to.
Pouches are available in 4 varieties for 89p each.
Mighty Meals
As Jack isn't a big lover of his evening meal I decided to give him his first Mighty Meal to try at lunchtime in the hope that he would scoff the lot. I was wrong.......I must've caught him on the wrong day as, after he took a mouthful and declared it was too hot, he got decidedly stroppy with me and threw a meatball across the table at me. A few stern words followed (both of us) and some crying (him) and then bed (him). After a 2 hour nap and another 2 hours jumping on the trampoline he was ready to give his Pork Meatballs another go (for the record I didn't reheat it for a second time, I just mixed it with some hot mashed potato), and do you know what? he ate the lot. I may have told a few white lies and said there was sausage in it and when all the 'sausage' was gone I may have told him that I would find some more & spoonfed the rest into his mouth saying 'here's some more sausage'.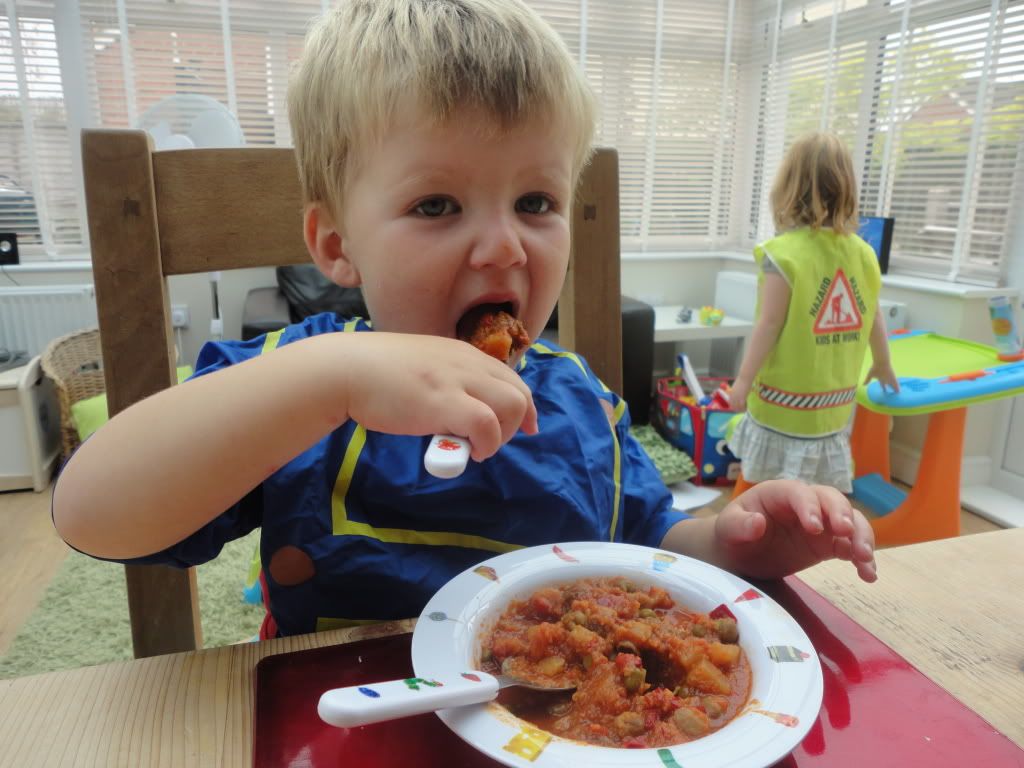 watch out for flying meatballs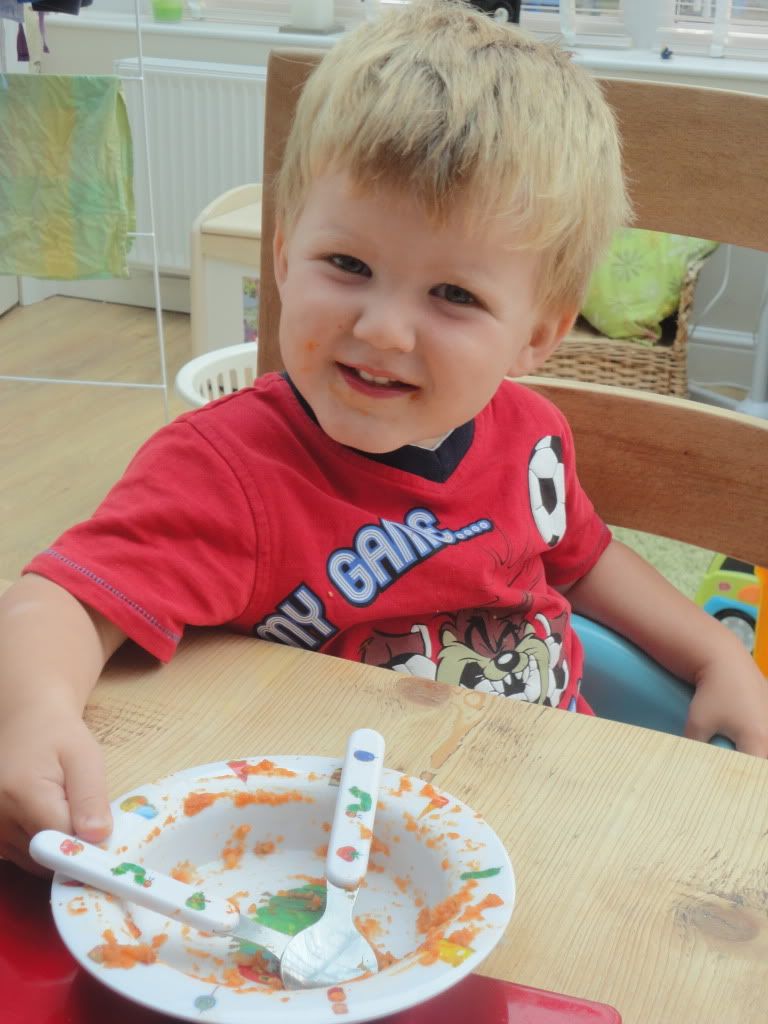 clean bowl after 2nd attempt
The Mighty Meals are available in 5 different varieties for £1.99 each.
The Organix Goodies and Mighty Meals are all aimed at Toddlers over 12 months and can be found in the baby aisle of major Supermarkets or online. At the moment they have a fab deal on where if you spend over £20 in their Online shop you will receive a free Limited Edition Organix Gingerbread Man tin containing 2 boxes of Gingerbread Men - great with a cup of tea when the kids are in bed in the kids lunchboxes.