Bank Holiday Monday is fast approaching and that means one thing.....sadly not a day off for me - Hubby is working & I have 3 kids to look after....but it does mean that HOP is released on DVD and Blu-Ray so at least I will be able to keep them entertained if the usual Bank Holiday rain falls.
Get ready to enjoy the ultimate tales of chicks, candy and Rock N Roll. From the creators of the Hit Movie Despicable Me, comes Hop, a tale of fame, fortune and friendship.
When the time comes for E.B. (Russell Brand) to take over from his dad running the family business, he decides the pressure is too much so instead he runs away to Hollywood to see his name in lights. However, right from the start Hollywood isn't exactly what E.B. expected. Whilst looking for somewhere to stay, E.B. is hit by Fred's (James Marsden) car and Fred is forced to take him in to recover. When Fred realises E.B. is the very same Easter Bunny he glimpsed as a child they form an unlikely friendship and he agrees to help E.B. pursue his rock n roll dream, taking him to appear on "Hoff Knows talent". In return E.B. teaches Fred about what it takes to be an Easter Bunny. Meanwhile both are blissfully unaware that an elite team of royal ninja bunnies, the Oink Berets, have been sent on an urgent mission to bring E.B. home.
Back on Easter Island all is not well. Head Chick at the Easter Factory, Carlos (Hank Azaria) see's E.B.'s escape as an opening for the position of Easter Bunny and with some unwitting help from hapless music obsessed chick Phil (also Hank Azaria) he attempts to take control of the Easter factory.
We were lucky enough to be invited to a screening of Hop at the appropriate setting of Cadbury World in Bourneville, nr Birmingham where we enjoyed a tour of the Chocolate Factory, met some lovely fellow Bloggers, ate a delicious buffet lunch and watched Hop whilst the children sat mesmerised by the film (some of them.....not mine).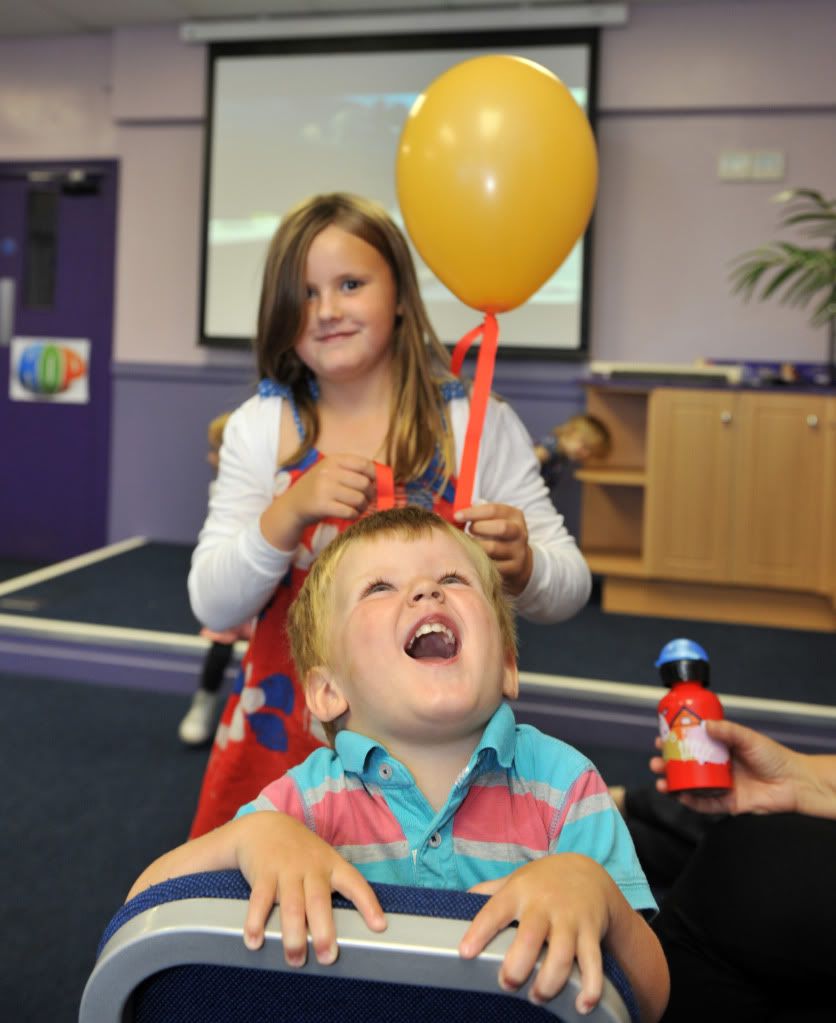 Where's my balloon gone?
We also got to meet the star of the show E.B. in person.....I think the parents were more excited than the kids....especially Jack who point blank refused to have his photo taken with him and insisted on just waving at him from a safe distance.
I then got dragged around the Worlds Largest Cadbury Shop and was forced to spend too much money on lots of lovely goodies.
We had a great, but tiring, day out and a tricky journey home - have you ever tried carrying a 2 stone toddler, a buggy and a 1.5kg chocolate football down a steep flight of stairs when you're hurrying for a train?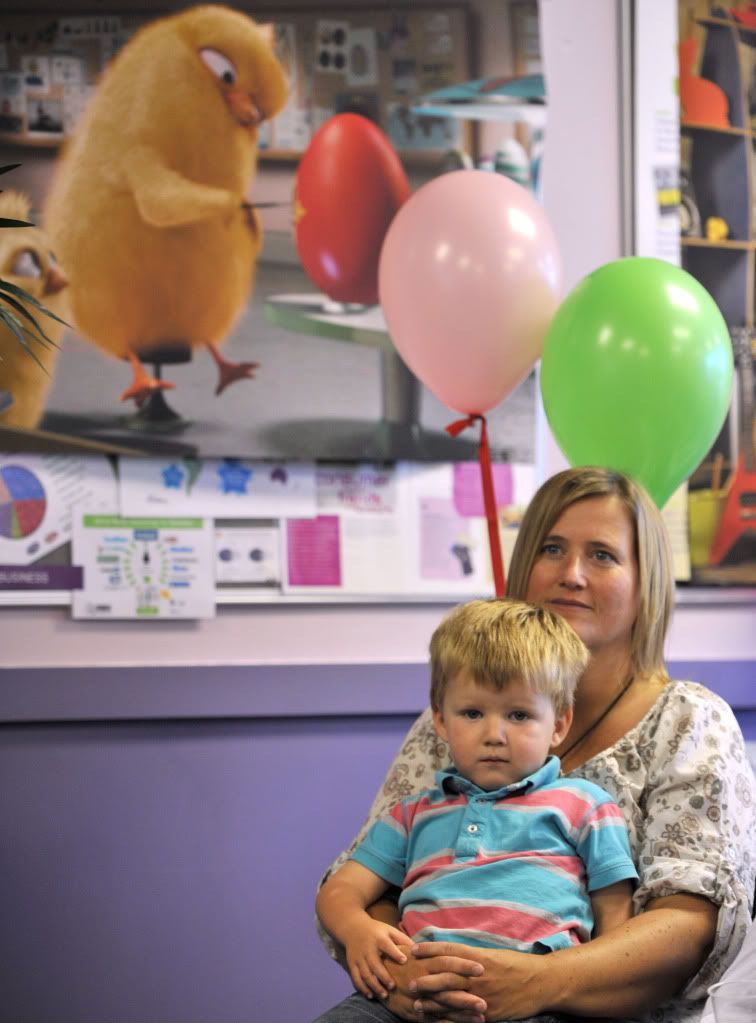 Mummy's Boy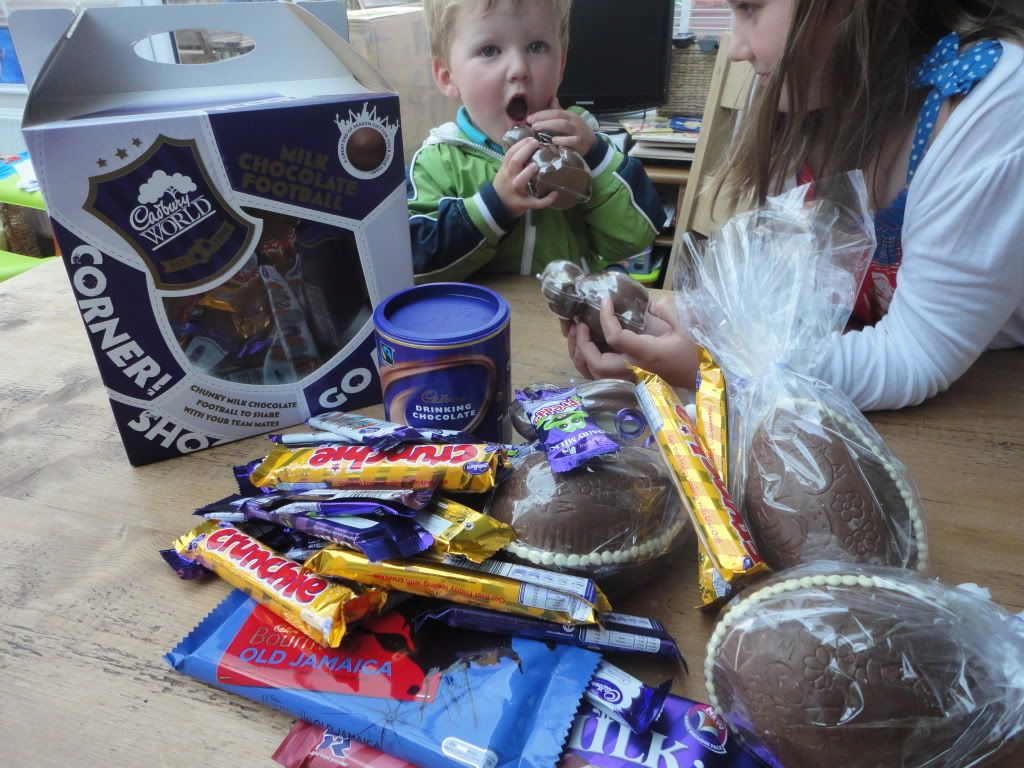 Our Hoard
I'll leave you with the words of my 8 year old daughter after we had struggled onto the train with all the bags of chocolate along with everything else you need on a day out.... "Why would any Mother buy their son a big chocolate football"...hmmm I sense a touch of jealousy here!