To round our holiday off nicely we went to Chester Zoo on Friday. We didn't arrive home until late on Thursday night so didn't get up and out of the house as early as what we perhaps should've done.
The Zoo was around 1.5 hours away and we arrived just before midday. There was plenty of parking available and only a couple of minutes walk to the entrance. As it was a lovely day people were setting up picnics around their cars on the grassy areas. We spent a short time cleaning up sick after a travel sickness incident just as we arrived at the Zoo!
We only had one family in front of us in the queue so didn't have to wait too long to get in. They also have a Fastrack entrance for annual passes or prepaid admissions. You can get free wristbands for small children that you write your mobile number on just in case they happen to go astray. We thought it was a great idea so got one for Jack - although my husband had left his phone in the car and mine wasn't charged, so it wasn't much use for us.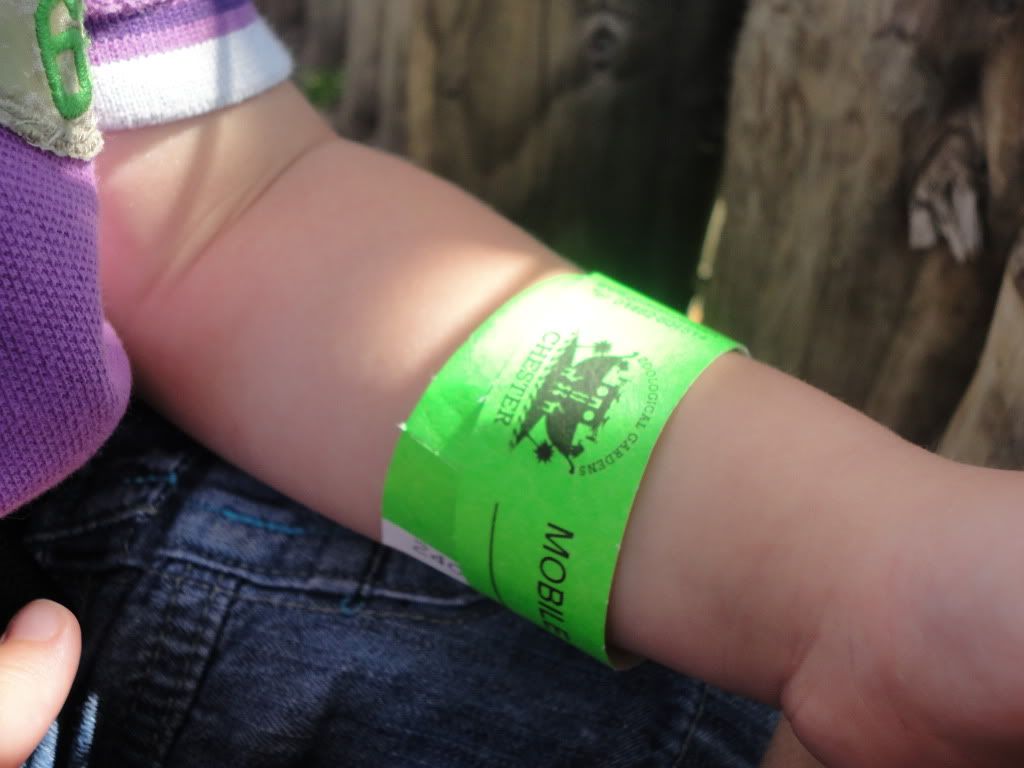 Just inside the entrance there are toilets, baby changing facilities, lockers and buggy and wheelchair hire. Single and double buggies can be hired for £6 or £10 with a £10 deposit.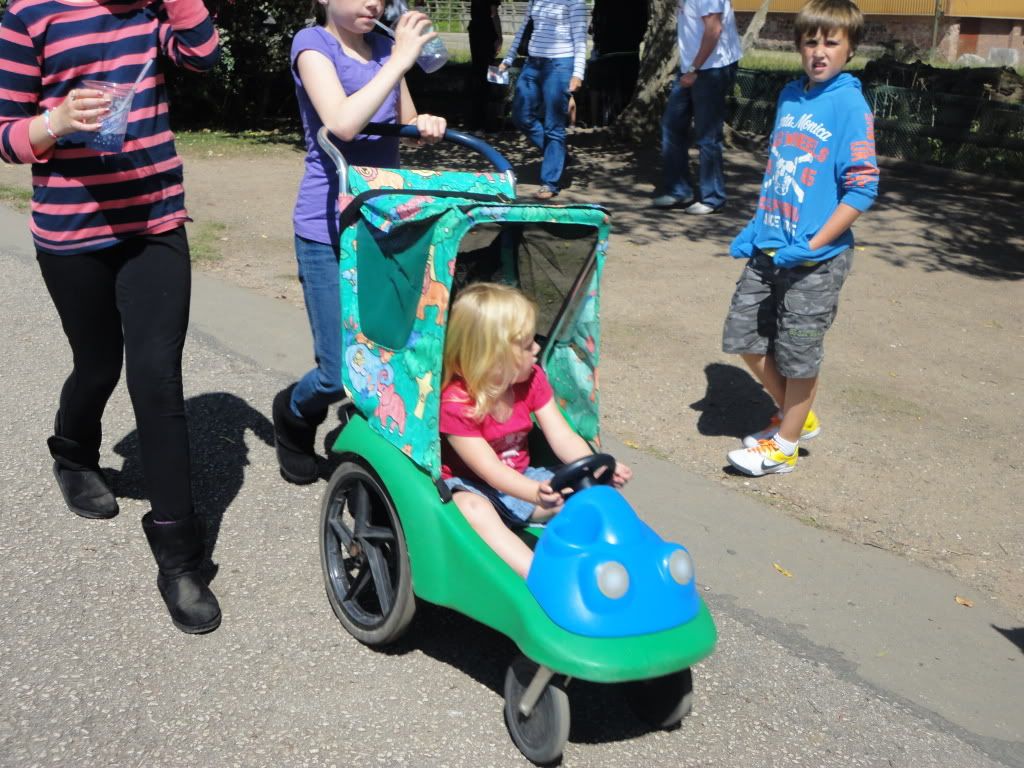 The toilets are clean and modern with a couple of low level toilets and sinks for small children.
All around the Zoo are grassy areas where visitors were picnicking or just enjoying the sunshine.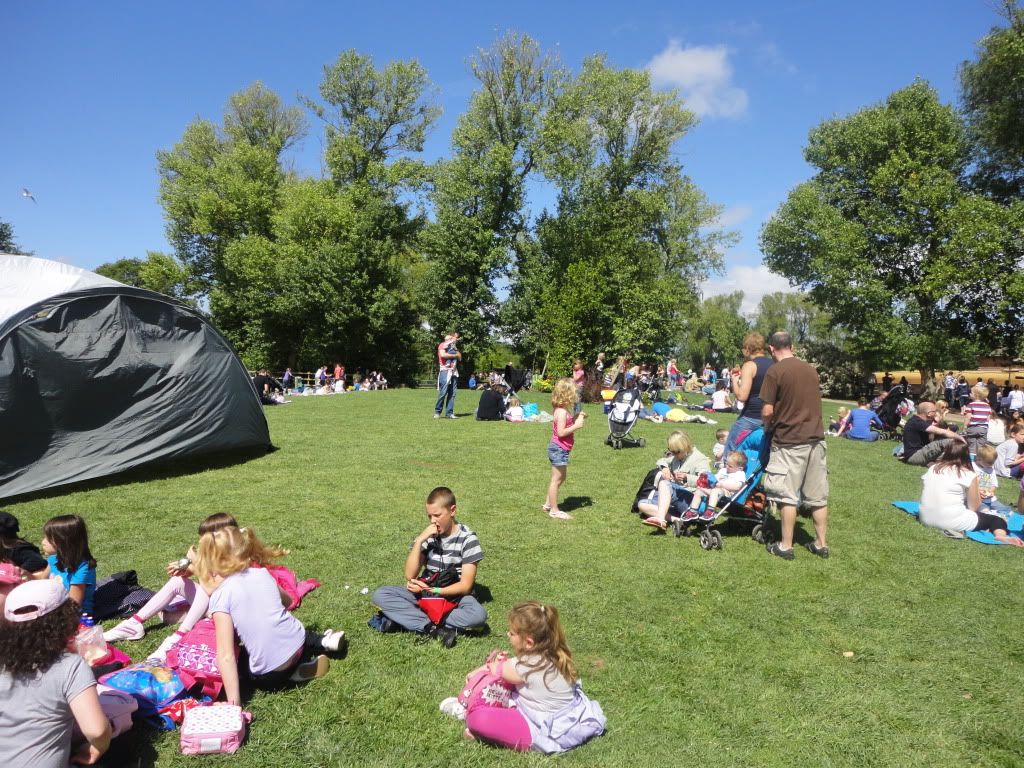 We were issued with a map of the Zoo when we entered showing the location of the animals and facilities. There are suggested colour coded routes showing the distance of each route, from 0.2 miles for the shortest up to 1.3 miles for the longest. We never followed any of the routes and just ambled around in no particular direction. We started off by seeing the Elephants, which included a couple of babies that we managed to get quite close to. You can walk all around the enclosure and can even manage to get within a few feet of these amazing beasts.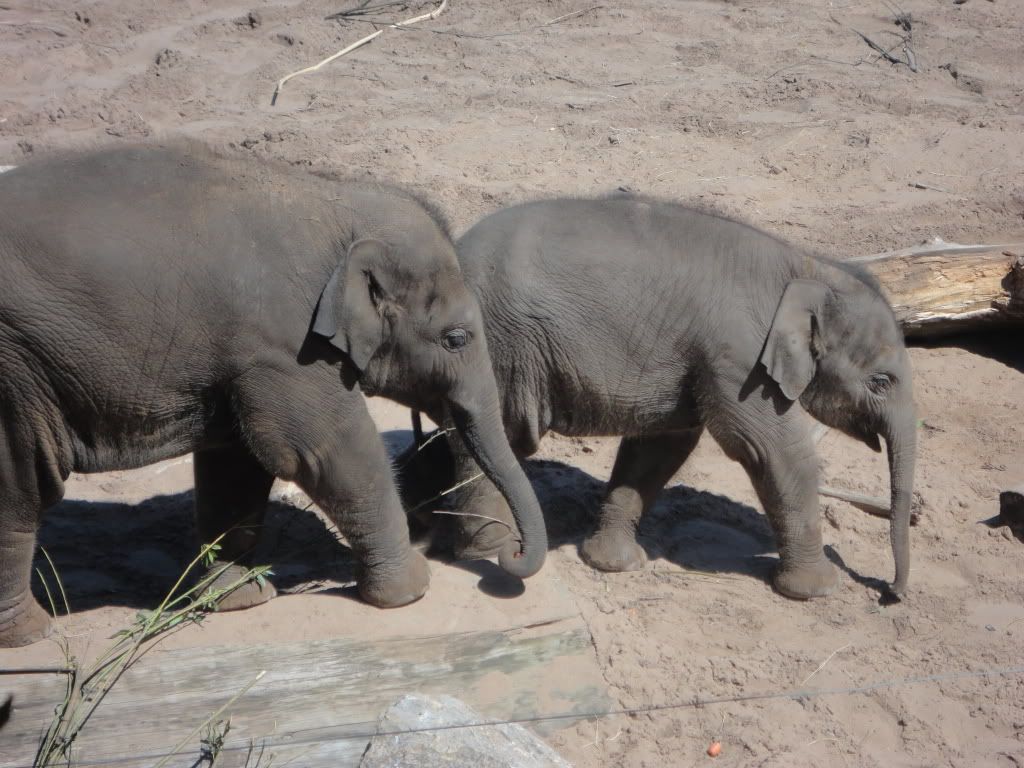 It was a hot day and never managed to get around the whole Zoo in the 4 hours that we were there, you would easily need a full day to get around the whole park.
One of our favourite parts was the Dinosaurs at Large exhibit which you can get to see throughout the Summer until 8th October. There are 13 life sized animatronic dinosaurs which look very realistic complete with sound effects....and some even spit water at the visitors! There was a cleverly positioned shop at the exit which you had to walk through to get out.....
We stopped for lunch at Junes Pavilion around 2pm and even though the park was very busy we never had to queue and the service was extremely fast. There were lots of vacant tables and all of them had been cleared. In the time that we were there I didn't see one vacant dirty table. The food we had was much better than expected for fast food and there was more than enough. The table full of food here cost us £28 which I think is very reasonable considering the quality.

Afterwards the kids played for a while in the Fun Ark, a barked play area, with a separate area for 4 years and under.
We had planned to go on either the monorail that goes around the Zoo or the water bus (both priced at £2 for adults and £1.50 for children, with under 3's going free) but both had very long queues so the kids opted to dig for fossils instead.
For £3.50 we were given our own section to dig in which we were told had at least 6 fossils in but maybe more if people had got bored and not dug them all out previously. We all enjoyed digging and finding various fossils and when we could dig no longer they were rinsed off and bagged up.
Here is our find

Beside the fossil digging is the 'Zoo Vets - an Inside Story' exhibit highlighting the work of the Chester Zoo Vet team, with photos and implements such as huge nail clippers, on show.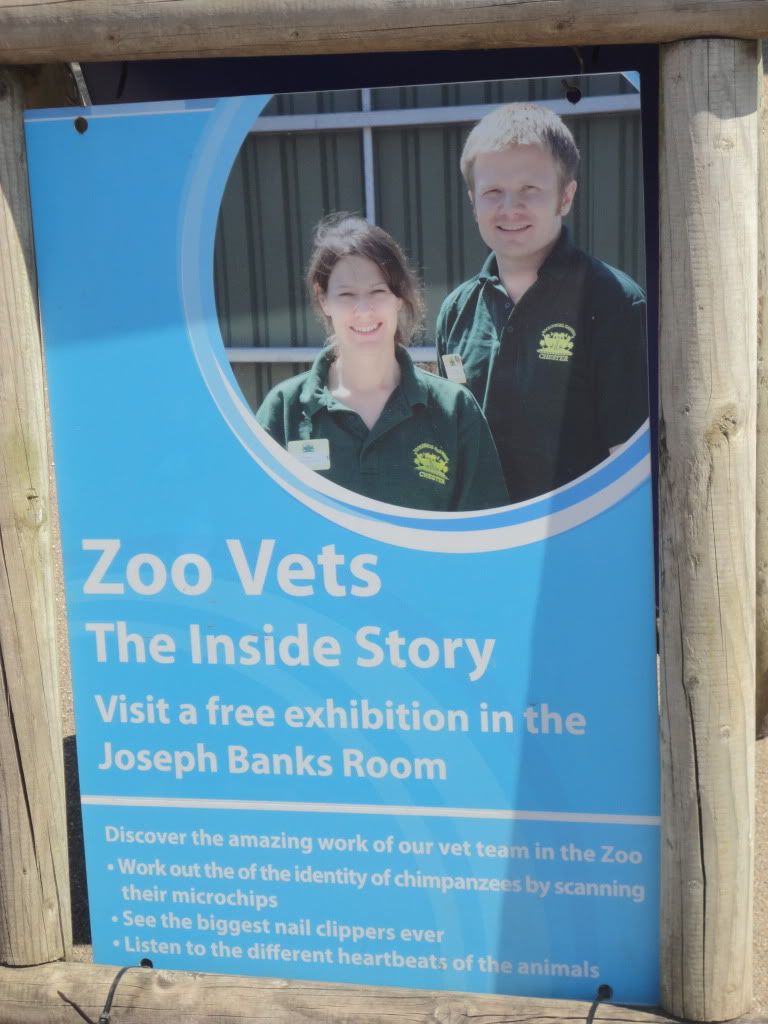 There are animal talks throughout the day from 10.30am at various animal enclosures throughout the park and the times and locations are displayed on boards.
As well as the three adventure playgrounds there is a nine hole mini Conservation Golf Course and a face painting studio so there is plenty to keep the kids entertained throughout your visit.
You can also choose to adopt an animal during your visit and various packages are available.
All in all Chester Zoo was a great day out for all the family and excellent value for money with a family ticket (2 adults & 2 children) costing £50. Opening times during the Summer are 10am - 6pm.
On the way home we called in at Cheshire Oaks Designer Outlet and picked up 2 pairs of Clarks school shoes for £47 which ended the day well.
I was provided with 2 adult and 2 child tickets free of charge by Superbreak for the purpose of this review however all opinions are my own.
Chester Zoo short breaks
Chester guide