I have been sent some teabags to try out by the lovely people at STORM in a variety of flavours. I have previously mentioned in blog posts that I'm not a great lover of fruit and herbal teas but in the name of research I'm willing to give anything (within reason) a go.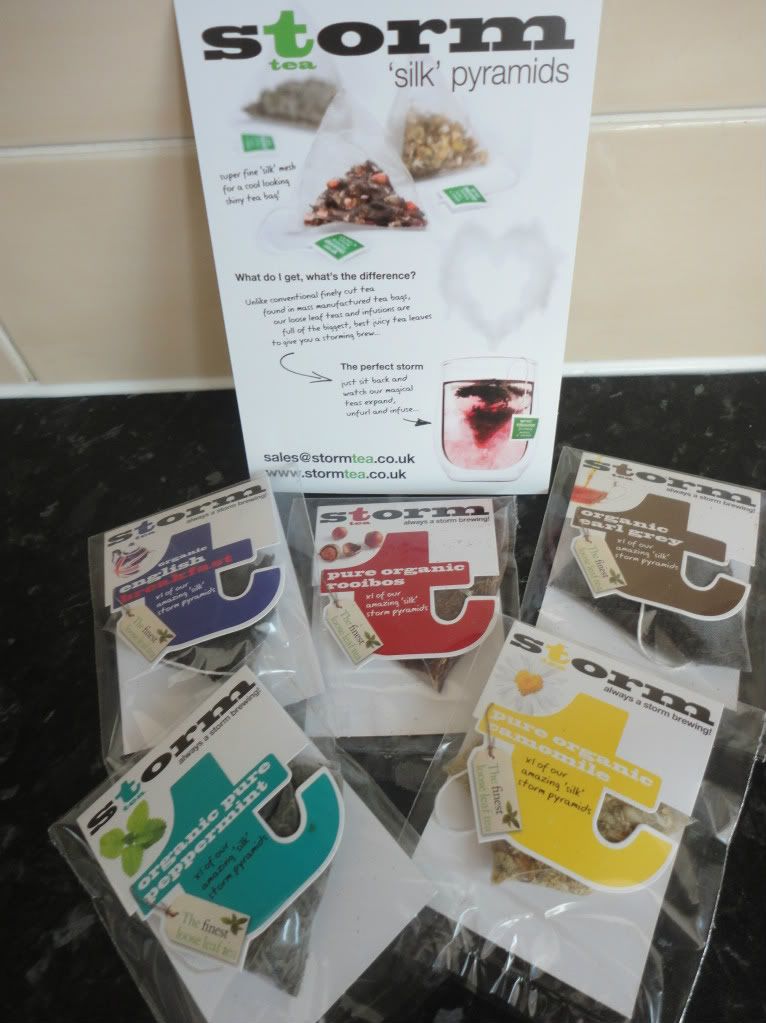 Storm produce organic whole leaf teas in wonderful little silk pyramids, no need for straining your loose tea and ending up with bits in your cup. Did you know that there are also health benefits to drinking tea :
If you want to transform your immune system to better fight off colds and flu MORE EFFICIENTLY, drinking tea can be a powerful and easy way to accomplish your goal. Studies from Harvard University showed that those who drink 5 cups of black tea a day for 2 weeks transformed their T cells into super cells that produced 10 times more cold fighting interferon than those who did not consume black tea. Green tea was also just as effective. Other germs were also defeated in this study including infected cuts, food poisoning, and diseases like malaria. Even drinking less than 5 cups a day provides some valuable benefits. So, drink a cup or two of green or black tea a day for benefits that are well worth the time to brew a cuppa.
Drinking green teas could help diabetes prevention and it also boosts one's system. Green teas are used for many other healthy remedies all over the world today such as stomach upset, diarrhoea, nausea, and bowel irregularity, lowering levels of cholesterol, with prevention of tooth decay and mainly as a type of antioxidant. This tea may also have positive anti-inflammatory effects as well. Why not try our Chun mee green tea? - Storm
Well I didn't know that!
I was sent Earl Grey, English Breakfast, Camomile, Peppermint & Rooibos to try out and I was a bit scared to be honest and didn't quite know what to expect, with me being an Asda Red Label tea drinker!
First up was the Camomile which, with a squeeze of lemon, was very nice and as the pyramid bag was so lovely looking I didn't want to throw it away so I left it in my cup and had a second cup a bit later, which was just as tasty as the first.
Camomile
I wasn't too keen on the Peppermint or Rooibos but as I have found with herbal teas previously, it takes me some time to get used to the taste.
The English Breakfast had a completely different taste to the tea taste that I'm used to but it was very nice and has made me realise that the tea I do occasionally drink (not even 1 cup a day some days) doesn't really taste of much at all - a few years ago I used to use a tea strainer to make my tea, but not with loose tea, I used to put my teabag in the strainer and pour the water over so the milk was just an off white. I've moved on from that but still don't like my tea too strong and it has to be made with skimmed milk - unless it's a fruit or herbal tea of course.
Storm tea can be purchased online for £3.79 for 15 silk pyramid bags.
I was sent these tea-bags for the purpose of this review.