I was surprised that 8 year old Hanna got so excited at the sight of the huge box containing the Silver Cross Classic Deluxe Dolls Pram considering we got rid of her almost identical one last year because it had sat untouched under her bed for about a year, but she was.
Some assembly is required (instructions included) when you remove the pram from the box - the wheels need clicking into place and there are 2 sets of clips on each side that need to be clipped together.
Once assembled and opened the sides are locked in place and it's ready for play. To test out the adjustable handle height Hanna allowed 2 year old Jack to have a push of the pram too, which she soon regretted when he wouldn't let her have it back. He decided to take Loopy Rabbit for a ride around the house and then thought the jigsaw puzzle would like to go for a ride too.
The pram has a suspension type feeling, created by the moveable clips on each side, enabling you to be able to rock your doll or teddy (or puzzle) to sleep.
There is a hood that can be put up or down, as well as a rain cover, co-ordinating changing bag and parasol. There is also a large basket underneath for carrying more toys or shopping, and the pram folds down easily for storage.
The Toys R Us age recommendation is 4+ which I think is about right, although with the adjustable handle it can easily be used by a 2 or 3 year old. The age recommendation on the box is 5-10 years and due to the adjustable height on the handle would definitely suit children of such a wide age range.
The
Silver Cross Classic Deluxe Doll Pram
is available from Toys R Us both in store and online and retails at £69.99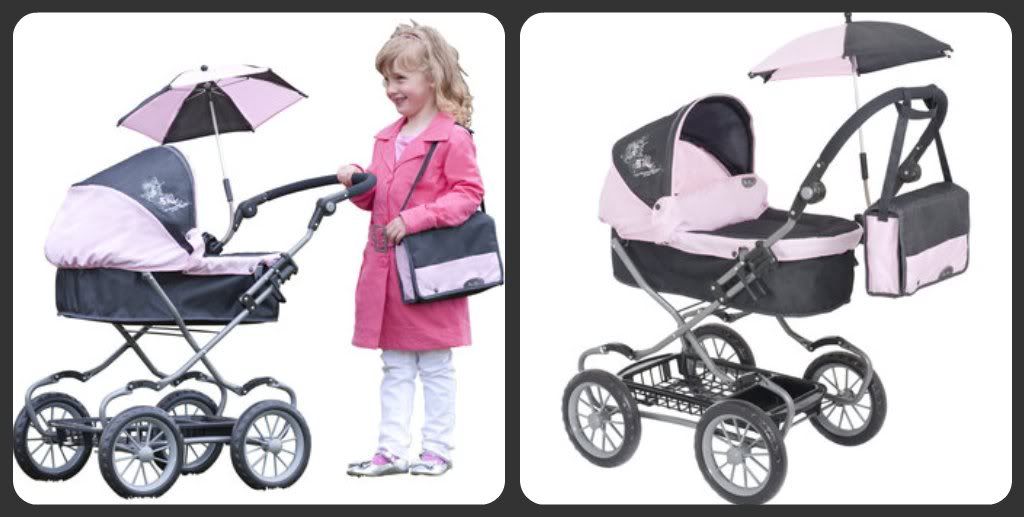 Age suitability: 4yrs +
Why not check out some of the other Toyologists Reviews and competitions on the new Toys R Us Toy Box Facebook application and find out more about all the Toyologists.