Sam doesn't get too excited about 'boys toys' as he's very much into his sport, although when he saw a NERF Barricade in the 1st Toyologist Box his eyes lit up.
Thankfully we had a stock of AA batteries in the drawer of doom as this needed 3 and they sadly weren't included. I then had to locate a philips screwdriver in that same drawer, which was no mean feat but once the battery compartment had been unscrewed, batteries inserted, battery compartment screwed back in, we were good to go.
The gun is pretty straightforward to use, load the darts into the rotating barrel, close the door, slide the on/off switch and pull the trigger. The darts are very soft foam with a soft rubber end, which makes a whistling sound as they travel through the air, and I'm happy for them to be fired in the house (within reason) and they haven't (yet) caused any damage. The gun is quite powerful and outside in the garden the darts travelled at a distance of 9 - 10 metres. Once or twice they did get jammed but Mum came to the rescue and prised them out.
It's quite a heavy solid gun and seems pretty strong and able to withstand a lot of rough handling.
The
NERF Barricade
is available from Toys R Us both in store and online and retails at £17.99.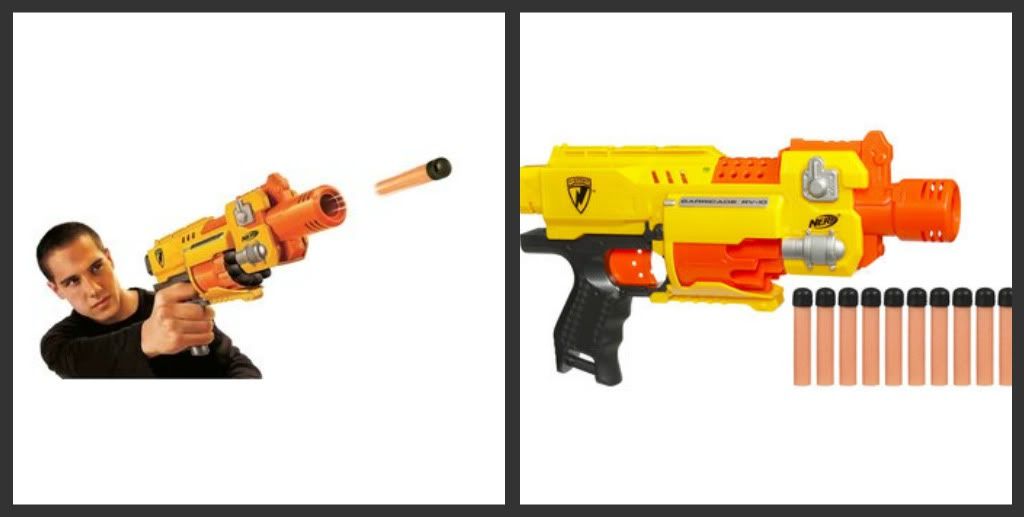 Age suitability: 6yrs +
Why not check out some of the other Toyologists Reviews and competitions on the Toys R Us Facebook page.