It's not very often that The Husband get's a look in on this blog...take a look at my new header for instance ↑↑↑ , no sign of him there, although he did suggest that could be pictured in his usual spot, at the kitchen sink, sadly there wasn't enough room to squeeze him in.
Anyway back to this post, we were lucky enough to be sent some Manatomicals hair and body washes to try out. I say we because even though they are aimed at men I quite like them too. The fun & funky packaging is great and makes this reasonably normal showergel into something a little bit different, and something that I would be inclined to give as a gift, perhaps as part of a gift basket.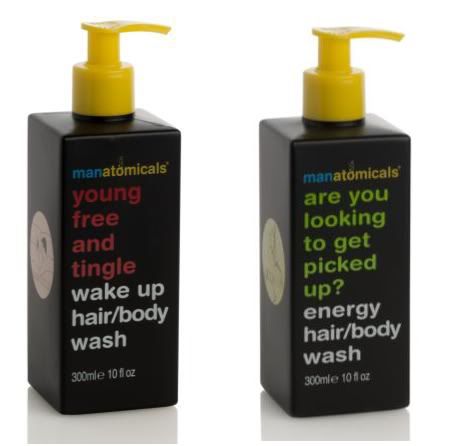 The showergel itself is actually a 2 in 1 hair and body wash which has a cool zingy sensation created by the added menthol ingredient. I didn't try it out on my hair but The Husband was happy with how it washed, he likes the menthol and the way it wakes you up in the morning but added that it does quite sting if you get it in your eyes.
Selected lines of the Manatomicals range is currently available in Waitrose and in selected Boots stores from August 2011. The hair/body wash retails at £3.50 for a 300ml pump action bottle.
I have 5 sets (these 2 bottles per set) of Manatomicals Hair & Body wash to give away to 5 lucky readers.
All you need to do is follow @ukanatomicals on Twitter and tweet the following:
Are you Man Enough to WIN Manatomicals hair/body wash from @ukanatomicals and @jessies_online ? I know I am! http://bit.ly/oANpyu
Then leave one comment below letting me know that you have done both of these things and a way of contacting you.
The competition is open until 10pm on Sunday 17th July. I will then pick 5 lucky winners from all the entries received (using Random.org) and contact you for your address. If you don't reply with your address within 2 days I will choose another winner. Entry is only open to those with a UK delivery address. Please allow up to 28 days for delivery of your prize.