With the weather recently being so hit and miss I've been caught out in the sun protection department. The kids have gone off to school in their Winter coats but by lunchtime the rain has cleared and it's baking hot and I worry that they're not protected from the sun. I don't have enough bottles of sun lotion for them to keep one at school so when it's looking like a nice day they usually have a covering and then one of them takes the bottle so they can apply another coating at lunchtime. I can rely on Hanna to do this but I know Sam won't. So when I received some Ultrasun suncream to try out it couldn't have arrived at a better time. As it's a 'once a day' formula all I need to do is apply it on the children in the morning and it will protect them all day and I don't need to rely on them to apply their own at lunchtimes.
At ultrasun, we are passionate about sun care and protecting your skin from the harmful effects of over-exposure to the sun's rays. We don't do make-up, we don't do cosmetics, we don't do fragrance - just the most effective, the most efficient sun protection you can buy.

With ultrasun, just one application a day, delivers long lasting, high level protection from both UVA and UVB rays. Our products are free from oils, emulsifiers and perfume reducing the risk of allergy and making them especially suitable for children and sensitive skins. They are non-staining, non-greasy, water-resistant and easy to use. They are ideal for everyone in the family from sporty dads and lads to wriggly tots and tiresome teenagers ... not to mention busy mums, high on good intentions but low on available time!!

ultrasun once-a-day products are suitable for the whole family and protect you while you tan. ultrasun products are not tested on animals.
The cream went on nicely and wasn't thick and greasy like many high protection creams and being non staining is a bonus when the school uniform is a white polo shirt. Although the cream is not perfumed it did have a pleasant scent. I tried out the aftersun on myself as an alternative to the Avon aftersun that I use on a daily basis as a moisturiser. I don't like heavy creams that make my face feel greasy and the Ultrasun aftersun didn't disappoint. It was very light and rubbed into my skin easily and didn't make my face feel sore or tight like it has done with many moisturisers. It's probably a bit of an extravagence using the aftersun in this was as it's quite expensive but I shall now be saving the rest for when I go to the Glastonbury Festival in a couple of weeks when hopefully my skin will be in need of a bit of soothing after over exposure to the sun!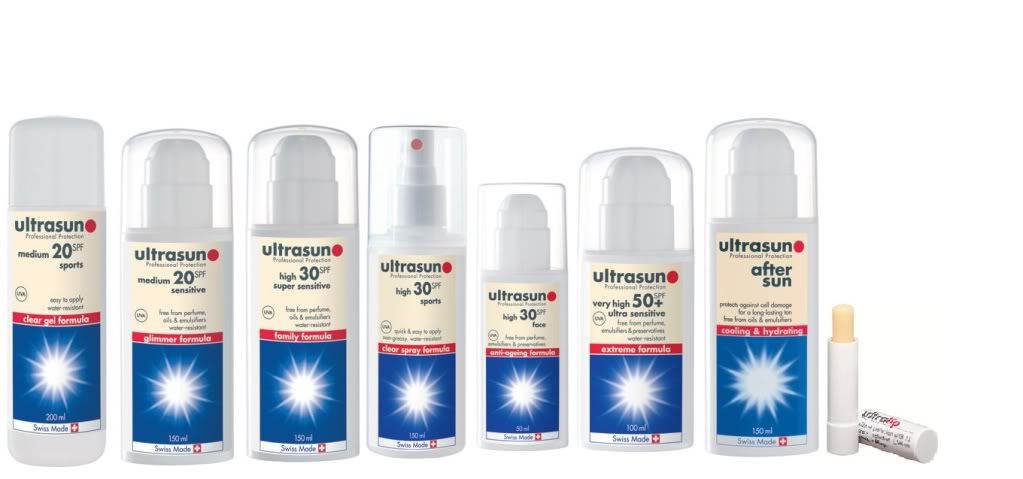 I have a complete set of Ultrasun products to give away to one lucky reader. The complete set consists of the following items :
·
1 x SPF20 sports formula – 125ml
·
1 x SPF20 glimmer formula – 100ml
·
1 x SPF30 family formula – 100ml
·
1 x SPF30 sports spray – 150ml
That's a whopping £135 worth of products!
To be in with a chance of winning all you need to do is follow Ultrasun on Twitter and tweet the following :
I want to win £135 of @ultrasunuk Suncare products on The Crazy Kitchen blog @jessies_online http://bit.ly/kTssoJ
To gain an additional entry please Like their Facebook page
Once you have done either or both of these please come back and leave separate comments to let me know what you have done.
You may also like to follow me on Twitter and Like my Facebook page to make sure that you don't miss out on future competitions hosted on this blog.
The competition is open until 10pm on Saturday 18th June. I will then pick 1 lucky winner from all the entries
received
(using Random.org) and contact you for your address. If you don't reply with your address within 5 days I will choose another winner. Entry is only open to those with a UK delivery address.