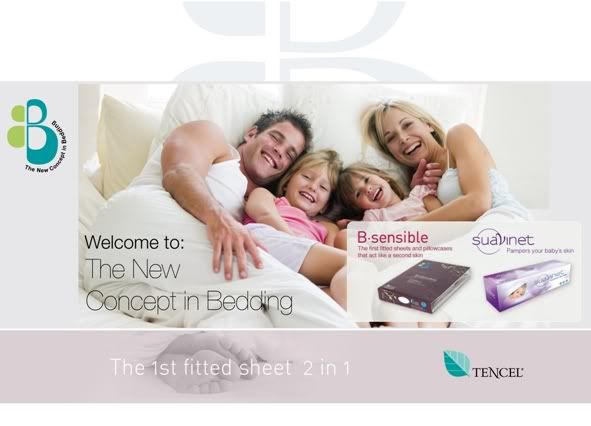 The B.sensible is a fitted sheet and mattress protector in one. The range has sheets to fit moses baskets right up to Kingsize beds and in a range of 24 different colours. It is water resistant and breathable and claims to absorb significantly more moisture than cotton and dries much more quickly.
Other key points to note about the sheets are :
Hypo-allergenic, clinically proven to be suitable for those with sensitive skin, eczema, asthma & rhinitis

Contains no pesticides or agricultural chemicals

100% EU product

Ideal for all mattresses including Memory Foam

Fitted and stretchable

Non iron
I have been sent 2 sizes of sheet , a cot-bed size and also a double for each of my boys,
in sky blue. Two
year old Jack is in a toddler bed and ten year old Sam is luckily enough to have a double bed which my parents sleep in when they stay over. I currently use a waterproof sheet on the double bed to protect the mattress from any accidents that may happen.
The cotbed sized sheet comes rolled up in a box and what struck me opening it was how soft and flexible it was. Other waterproof sheets that I've bought tend to be a bit 'plasticky' yet this felt like jersey cotton with a very fine waterproof membrane on the other side.
The double sheet is wrapped in plastic and cardboard packaging and mine came in a cute little re-usable shopping bag which I'm sure I'll find a use for.
What appeals to me most about these sheets is that they are machine washable up to 9

0 °C

which is a bonus when you have children with sensitive skin as bedding needs to be washed at

60 °C

or higher to kill dust mites. All of the waterproof sheets that I've seen up until now are either hand wash or machine washable at

40 °C

, and who wants to hand-wash a bed sheet, especially a double one. Also they can be tumble dried which is a great bonus as the waterproof sheet that is currently on the double bed cannot be tumble dried and unless it's a very warm and windy day, takes forever to line-dry, and then if it's raining it ends up hanging around for a couple of days until it's dried - which isn't much use if you need to use it again in a hurry.
This sheet is more expensive (£37.99 for the Double) than the current sheets that I'm using but as they can be tumble dried it wouldn't be necessary to have a spare and would therefore work out cheaper.
As advised on the packaging, I washed these before using. As it was a dull day I tumble dried them, and they dried really quickly.
I was really impressed with how well they fitted the mattress. Often I find that sheets are very tight and are not always elasticated all the way around, which leads them to coming off the bed. These are elasticated all the way around with a stretchy deep skirt which should fit even very deep mattresses.
I haven't been able to try out the waterproof effectiveness of these with urine or sick yet, as no accidents have so far happened (isn't that called sods law!) , but I did pour a small amount of water on and rubbed it in, checked the mattress and nothing had seeped through.
Overall I have been very impressed with the B.sensible and am contemplating buying one for our double bed, not because I have a habit of wetting the bed, but because I have bought loads of sheets for the bed and have never found one that doesn't ride up the sides of the mattress, as its quite deep with a memory foam mattress topper on.
And the box that the sheets arrived in came in pretty handy as a boat too.....
B. sensible

®


A new dawn in bedding for babies, toddlers & grownups

N

ew from B.sensible® is an innovative range of beautifully soft, breathable, waterproof bedding for babies and children. It's the first 2 in 1 fitted sheet and protector that acts like a second skin and is as soft as silk and as cool as linen.


Recommended particularly for babies and children with sensitive skin, B.sensible® is water proof, breathable and comes in a selection of sizes from Moses Baskets upwards. As it's both a fitted sheet and protector you won't need to use another mattress protector alongside it.
B.sensible's®

bedding is made from Tencel a 100% natural fibre that comes from eucalyptus trees. Combined with a smart stretchable membrane that is virtually undetectable, it acts as a hypo-allergenic barrier against moisture, bacteria and dust mites. The smooth surface of the fibre and its extraordinary moisture absorption provides a really healthy environment for babies and young

children. Another amazing feature of this new-age fibre is its ability to regulate body temperature, acting like a second skin. It also absorbs significantly more moisture than cotton and dries much more quickly.
B.sensible®

is manufactured using a completely eco-friendly production process. It is machine washable and can be tumble dried. The bedding is clinically proven to be suitable for babies and children with sensitive skin, eczema, asthma and rhinitis.

The range includes bedding for all mattresses from Moses Baskets through to doubles and king-size beds. Visit www.bsensible.net for independent stockists and full information on the B.sensible for babies range as well as their children's and adult ranges. Also available to buy from branches of Toys R Us
o

Crib: 80x50 RRP £17.99
o

Cot: 60x120 RRP £21.99
o

Cot Bed: 70x140 RRP £23.99
o

Single Sheet 2'6, 3'0, 3'6 RRP from £31
o

24 Colours including White, Sky Blue, Pink, Lemon, Arran
o

Double sizes too RRP From £37.99
I have a cotbed sized B.sensible sheet to give away to one lucky reader. All you need to do to be in with a chance of winning is follow @Bsensible on Twitter and tweet the following
I want to win a B.sensible 2in1 fitted cotbed sheet & protector from @jessies_online & @Bsensible http://bit.ly/ifBIFU
For an additional entry please Like the B.sensible Facebook page and write on their wall to let them know that I sent you.
Then come back here and leave a comment to let me know what you have done, along with a way of contacting you.
The competition is open until 10pm on Sunday 5th June. I will then pick 1 lucky winner from all the entries
received
(using Random.org) and contact you for your address. If you don't reply with your address within 5 days I will choose another winner. Entry is only open to those with a UK delivery address.